United Kingdom News
The latest news from the United Kingdom.
TOP STORY:
VIRAL Nicola Bulley Theory: Did POLICE Cause Her Death by FORCING Abductor's Hand?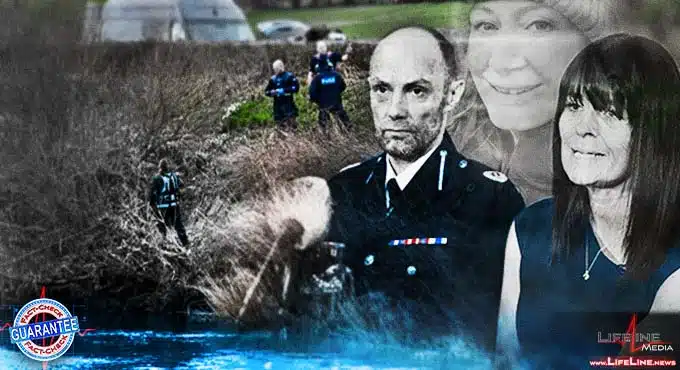 Hypothetically speaking — the abductor watches the police's press conference just days earlier and sees detectives fixated on the theory...See more.
BRAVO Boris! Boris Johnson Will SCRAP Draconian Measures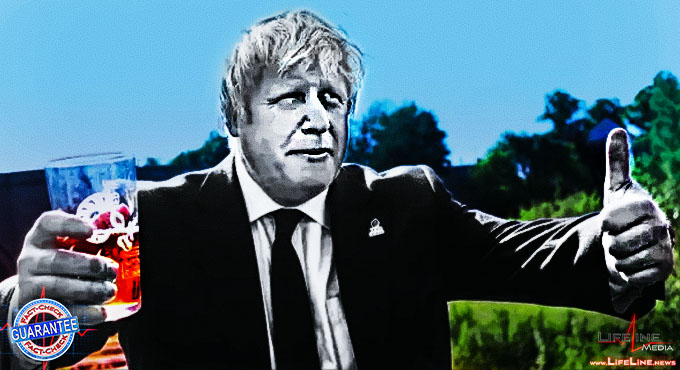 13 September 2021 – Boris Johnson is said to be "dead set" on avoiding another lockdown and looks to strip back the government's power. 
Johnson is expected to announce on Tuesday his new Covid winter plan which will see the removal of the more draconian measures. 
After harsh criticism over vaccine passports for attendance at large venues, it now appears the UK government has had a change of heart with Johnson looking to scrap the vaccine passport plan.
It also appears that Johnson is adamant that another lockdown will not be necessary and he plans to strip back some of the government's power to close the economy. 
In March 2020, the UK passed the Coronavirus Act which gave the government unprecedented emergency powers to respond to COVID-19. The act included giving police the power to detain infectious people and close businesses. 
Johnson looks to strip many of these powers away from the government while keeping only a necessary few, he made it clear that he's "determined to get rid of any powers we no longer need".
Rather than focusing on lockdown measures, Johnson hopes to contain the spread of Covid during the winter with vaccine booster jabs that will be available to the older and more vulnerable sections of the population. 
The UK chief medical officers are also due to announce whether vaccines will be offered to young teens aged 12-15.
UK businesses will welcome Johnson's announcement as will many conservative MPs. 
FACT-CHECK GUARANTEE (References): [Government website: 1 source] [Straight from the source: 1 source]
ASDA Brawl: INSANE Fight in UK Supermarket Led by Spider-Man and Ali G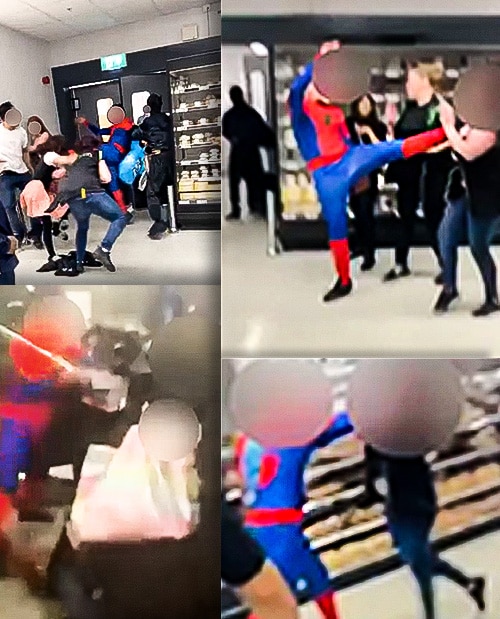 24 July 2021 – Disgusting photos emerged of a full-on brawl in a London supermarket led by people in fancy dress! 
The scenes were truly bewildering, with a man in a wheelchair being smashed over the head and a female staff member being viciously punched.
Photos showed punches being thrown, staff being attacked, and objects being launched inside a Clapham Junction Asda, on Thursday, 22 July at around 10 pm. 
Initially believed to be a prank of some sort, the group of attackers led by a Spider-Man, Ali G, and Batman plowed into the store attacking the only security guard and then causing chaos.
This is horrific:
Footage from social media showed a woman staff member being attacked by the Spider-Man, whilst he kicked her in the throat and punched her in the face. The Spider-Man can then be seen hitting more people with a crutch.
Onlookers were heard shouting at the attackers whilst the spider man can be heard shouting obscenities. 
Police and ambulance attended the scene and a woman in her 20s was taken to hospital whilst five more were treated for injuries on the scene.
Five people have been arrested including three men in their 30s, an 18-year-old woman, and a 17-year-old girl. They have been arrested on suspicion of grievous bodily harm, actual bodily harm, affray, and violent disorder. 
An Asda spokesperson commented, "We do not tolerate any form of violence or abuse towards colleagues or customers, and we are working closely with the police in their inquiries."
The police have asked the public to come forward if they have any information about the attack.
WTF: Rainbow Dildo Butt Monkey Will HAUNT YOU
15 July 2021 –  PTSD WARNING! Can't be UNSEEN! A library in Redbridge, UK, decided to hire some actors in fancy dress to encourage children to read. 
Unfortunately, one of the actors was dressed as a monkey, a rainbow monkey, with bare buttocks and a plastic penis hanging from its crotch! It was rainbow monkey dildo story hour! 
The pornographic 'rainbow dildo butt monkey' was even pictured twerking and behaving inappropriately (sexually) at an event that was meant for children aged 4-11! 
At first, Redbridge Library was seen promoting the event on social media and even making jokes about the inappropriate costume. 
However, the tone quickly changed…
When the library received backlash from parents on social media; the library apologized and claimed it knew nothing about the inappropriate costume beforehand. An investigation is underway. 
Watch the full video to see the disgusting costume and sickening video…
This UK Poll Will Make YOU SPIT Your Coffee Out!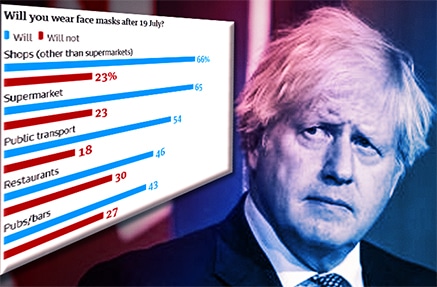 11 July 2021 – A shocking poll from the United Kingdom seems to indicate that people want less freedom and more Covid restrictions!
UK prime minister Boris Johnson plans to end a majority of Covid restrictions on 19 July, which includes mandatory mask-wearing on public transport.
That's caused some upset:
Political leaders, NHS workers and doctors are pushing back on "freedom day", saying that restrictions should not end on 19 July. 
An Opinium poll suggests much of the UK public feels the same. The poll showed that 50% said they believed "freedom day" should be pushed back to later in the year. 
Of 2,001 UK adults interviewed, a majority said they still want to wear face masks in public and 73% of people believe that wearing face masks on public transport should remain mandatory.
It gets more surprising:
46% of people said they still want to wear masks in restaurants and 43% said they still wanted mask-wearing in pubs; only 30% and 27% respectively said they will not wear a mask, with the others undecided. 
Although cases of the delta variant are rising in the UK, it is surprising that so many people want restrictions to be in place, even after "freedom day" being delayed already. 
Student CAPTURES Triangle UFO Hovering Above British Coast
05 July 2021 –  Latest UFO sightings: A student in the UK managed to snap some astonishing photos of a triangle-shaped object hovering over the coast before it zoomed off into the distance. 
Here's the kicker:
Unlike most UFO photos, that look like they've been photographed with a potato, these pictures (see below) were of fantastic quality and clearly showed the object. 
Matthew Evans, 36, saw the UFO hovering for around 10 seconds above the coastline in Devon, UK. 
He saw it whilst looking out of his flat window and quickly got out his phone to take some photos. He managed to get some decent-quality shots before the object took off at a high speed. 
He said…See more.
3 Reasons Why Boris Must RESIGN (OR Be More Like TRUMP)!
19 June 2021 –  UGLY results from a recent by-election show that Boris Johnson is losing support and votes. 
For the first time since 1974, Conservatives have been defeated in a by-election for the areas of Chesham and Amersham. Conservatives lost to the Liberal Democrats by over 8,000 votes in an area that is known for being a Conservative stronghold. 
This confirms our previous claims that Boris has betrayed Conservatives with his recent actions such as not lifting COVID restrictions, pushing vaccines and by calling the extreme left-wing Biden administration a 'breathe of fresh air'! By wandering off the Conservative path, perhaps in the hope of grabbing left-leaning voters, Boris has instead alienated his Conservative base. 
Here's the deal:
Boris needs to be more like Trump if he wants to keep his base. He needs to completely reopen the UK economy and give people their freedom. Instead of pushing vaccines on the whole population he needs to let individuals decided for themselves whether they want to risk the jab or COVID. 
Boris also needs to understand that most Conservative voters support Trump, who is the face of US conservative politics and he should not pander to the extreme left-wing Biden administration.
Boris needs to take note from Trump, or he needs to resign and join the Labour party. 
Watch the full video to see the shameful by-election results and the 3 reasons why Boris needs to resign or be more like Trump…
Election RESULTS 2021: Labour TORCHED by Conservatives in Local Election!
In the local election results 2021 in the United Kingdom, Labour got absolutely trashed by the conservatives! 
In breaking news, the conservatives won Hartlepool by an almost 7,000-vote majority, taking it off Labour for the first time in over 50 years. 
More results from the local, mayoral, police and crime commissioner elections are to come in the next days. Labour's shadow transport secretary, Jim McMahon, was extremely disheartened as he said his party "hasn't got over the line" and "that's clearly very disappointing." This is a devastating blow to Keir Starmer and his effort to revive the Labour party. 
Watch the full video to see the election results UK 2021 so far and our analysis.  
Piers Morgan LOSES IT Over Meghan's New Children's Book
Piers Morgan completely lost it when he heard that Meghan Markle was authoring a children's book called The Bench. 
The book is about a father and son's relationship seen through the eyes of a mother. Piers found it ironic that Meghan wrote a book about fathers when she has no relationship with her own father and has put a rift between Harry and his. 
Piers Morgan was also rather upset by the fact that she used her royal title 'The Duchess' on the front cover of the book. 
Watch the full video to see Pier's angry Twitter rant and the full story. 
SCARY: Boris Johnson KICKS OFF at Keir Starmer Over 'Cash for Curtains' Row
In a spine-chilling PMQ Boris Johnson blows up on Keir Starmer over the 'cash for curtains' story. 
Keir Starmer fiercely questioned the British Prime Minister over who paid for some recent renovations Johnson did to his Downing Street flat where he lives with his fiancé and son. 
The Electoral Commission launched an inquiry into renovations done at 11 Downing Street saying there are 'reasonable grounds' to suspect offences had occurred. Boris Johnson stood strong on his defence that he has done nothing wrong and that there is 'nothing to see' over the flat refurb. 
Watch the whole video to see the scary clip of Johnson and the full story! 
These Tweets Are RANCID! (Leftists Have NO Morals)
In the wake of the death of Prince Philip, a number of leftist and 'woke' Twitter accounts expressed great delight in the death of another human being. 
Immediately after the announcement of Prince Philip's death, a number of these verified Twitter accounts called him racist, one called him a garbage human being and none of them showed any sympathy for the grieving Royal family. 
In this video we show you some of the appalling and rancid tweets that came from these leftists and discuss why all sense of morality seems to be lost on the left-wing/liberals. Watch the full video to see the sickening tweets and our full rant…
LIAR: Keir Starmer's DAMNING Track Record on Sex Abuse Cases
Here are 4 sex abuse cases Keir Starmer wants you to forget! We have been digging through Keir Starmer's past record as a public prosecutor to see if he really is as tough on sex crimes as he says he is. We've found 5 cases (4 sex abuse) that suggest he is the exact opposite, where he let rapists, abusers and paedophiles walk free and seemed more focused on prosecuting free speech.
For those who don't know, Keir Starmer started as a lawyer and in 2008 became Director of Public Prosecutions and Head of the Crown Prosecution Service. Let's take a look at his track record.
For a start, he failed to prosecute serial rapist John Worboys, known as the black cab rapist who was convicted of one rape, five sexual assaults and twelve charges of drugging women. Starmer decided not to prosecute him for any further cases, and he was scheduled to be released in 2018. 
He instead insisted on prosecuting a man for making a joke on Twitter which was known as the infamous Twitter joke trial. 
He ordered the CPS in Wales to drop prosecution on a primary school teacher who was accused of sexting a 16-year-old. Very sadly, that 16-year-old went on to commit suicide. 
He reopened a sex abuse case involving a friend of controversial labour politician Tom Watson. The accused was cleared of all sex abuse charges within one hour!
Finally, of course, he miserably failed to build a case against convicted paedophile Jimmy Savile after missing numerous chances to take the case to trial. Starmer apologised to the women abused.
On top of all those damning cases, a survey of CPS staff found that just 12% thought the organisation was well managed under Keir Starmer!
When he spoke in the House of Commons recently, he must have hoped the public wouldn't remember these damning cases! Well, here's a refresh…
Politician Says Put ALL Men on CURFEW!
Amid the tragic Sarah Everard murder, the left are using it as an excuse to target all men as being rapists and murderers. We show you a bizarre clip of Green Party peer Jenny Jones saying to put all men on a 6pm curfew to keep women safe on the streets! 
London Mayor Sadiq Khan also made a statement generalizing that all men inflict violence on women. 
Watch the full video to see the crazy clip and our full rant! 
EMBARRASSING Interview | Keir Starmer Shows he Knows NOTHING about Economics!
Keir Starmer embarrassingly shows how ignorant he is of economics in this recent interview. The UK government recently announced that NHS staff would be getting a 1% pay rise. However, due to economic difficulty caused by the pandemic the government said it did not have the budget to go higher than 1%. The leader of the Labour Party, Keir Starmer, hit back saying "This is insulting" but when questioned further about how he would give NHS staff more, he could not answer.
The only way to fund a further wage increase for NHS staff would either be through more quantitative easing or higher taxes. The Bank of England has already done a record amount of quantitative easing due to the pandemic which could result in significant inflation when the economy reopens. A devalued pound and higher prices will hurt the entire United Kingdom.
In related news, Starmer's popularity ratings have plummeted to a point where Matt Hancock is now more popular than the Labour leader! And amongst the working class, conservatives now have a 25-point lead over Labour.
Watch the full video to see this embarrassing clip of Keir Starmer.
Join a support network of patriots for FREE and gain full access to our exclusive forum, social media groups, and newsletter.
By joining, you'll automatically get the chance to WIN a free LifeLine Community t-shirt and more amazing goodies!
Politics
The latest uncensored news and conservative opinions in US, UK, and global politics.
get the latest
Business
Real and uncensored business news from around the world.
get the latest
Finance
Alternative financial news with uncensored facts and unbiased opinions.
get the latest
Law
In-depth legal analysis of the latest trials and crime stories from around the world.
get the latest
Join the movement on social media...