United States News
The latest uncensored American news! All the latest news stories from the United States.
TOP STORY:
GEORGIA Runoff: THIS is What the Media do to Black Republicans
Thought experiment: Imagine the furious screams of racism from the left if the roles were reversed...See more.
HORRIFIC: Walgreens Accidentally Gave CHILDREN Covid Vaccine Instead of Flu Jab
15 October 2021 – Parents in Indiana have claimed that Walgreens gave their young children Covid shots instead of flu jabs.
The COVID-19 vaccine is not approved for children under 12.
Alexandria and Joshua Price said they went into the Walgreens on St. Joseph Avenue on October 4th. They went to have themselves and their children, aged only five and four years old, the standard flu vaccine but later found out they had all been given the Pfizer Covid jab…See more.
Biden Just CROSSED The Human Rights Line
10 September 2021 – Biden has crossed the line we all knew he would, but hoped he wouldn't: vaccine mandates for over 100 million Americans.  
Biden's message to unvaccinated Americans was simple, "our patience is wearing thin" he said this Thursday and said that their refusal to take the vaccine "has cost all of us".
"This is not about freedom…" he said…See more.
TEACHER: Pledge Allegiance to the Gay RAINBOW Flag
29 August 2021 – A California high school teacher is in hot water after she revealed she got her students to pledge allegiance to the gay pride flag. 
Kristin Pitzen, of Orange County, posted a video to her TikTok where she boasted about how she lost the USA flag and replaced it with the pride rainbow. 
She mentioned that one of her pupils asked where the USA flag had gone during the Pledge of Allegiance, so she told them to…See more.
WTF: What JUST Happened to Joe?! (Biden Afghanistan Speech)
29 August 2021 –  Biden delivers a speech on the saddest day of his presidency when 13 US troops were killed in a horrifying terror attack at Kabul airport, Afghanistan. 
The bombing was carried out by an Islamic State group and happened during the evacuation of Kabul airport. In addition to the 13 US troops, two British nationals and as many as 170 Afghans were killed.
Biden delivered a promise of retaliation against those responsible while still bearing little responsibility for the chaos himself. The speech was muddled, insincere, and arguably embarrassing. 
Watch the full video to see what we're referring to…
GAME OVER: The Media Finally TURNS on Biden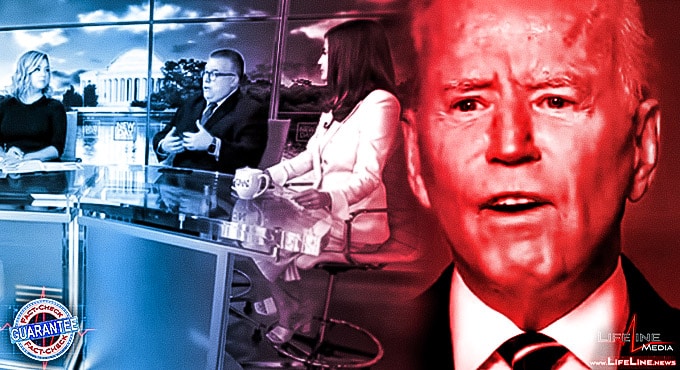 20 August 2021 – After his shocking ABC news interview about Afghanistan, Biden's closest ally, the mainstream media, just stabbed him in the back.
The recent Biden interview with ABC's George Stephanopoulos was the final straw for the mainstream media. Realizing that to salvage any remaining credibility with viewers, they had no choice but to criticize the US president. 
In the interview widely regarded as a monumental disaster, Biden stubbornly stood by his decision to withdraw troops from Afghanistan. 
When asked by George Stephanopoulos whether the situation could have been handled better and if there were any mistakes, Biden's swift reply was, "No".
Simply put, the President was arrogant and angry…
Biden was extremely defensive throughout the interview; at times he even came across as aggressive. This clearly did not sit well with the media or the public.
Here's the kicker:
Even CNN criticized (softly) the interview on many counts, highlighting what they called a rare moment of Biden showing 'no empathy'. This was referring to Biden's callous response about Afghans falling off the planes, saying, "that was 4 days ago, 5 days ago", as if that somehow made it better!
Other media outlets fact-checked the president, pointing out the many errors and inconsistencies in his statements. Others mentioned that his approval rating had sunk due to the Afghanistan situation. 
It was a rare occasion where both sides of the media-political spectrum scolded Biden for his disastrous interview. 
The White House appears to be in damage control mode with Biden scheduling no public appearances. 
FACT-CHECK GUARANTEE (References): [Official transcript: 1 source] [Official statistics: 1 source] [Government websites: 1 source] [Straight from the source: 2 sources]
Dr Fauci on CNN: REACTING to his SHOCKING Interview
30 July 2021 –  We REACT to Dr Fauci on CNN scolding unvaccinated people in a disgusting live interview. 
Dr Anthony Fauci just appeared on CNN where he blamed the pandemic on unvaccinated citizens claiming it is a "pandemic of the unvaccinated". 
CNN then proceeded to show another interview of Governor Kay Ivey saying that unvaccinated people have chosen "a horrible lifestyle of self-inflicted pain" and accused them of having no common sense. 
The segment finished in a rather contradictory manner, where data from Israel showed that the Pfizer vaccine could be only 39% effective after 6 months. 
Watch the full video to see our reaction to Dr Fauci's comments on CNN…
VIRAL: Biden Road Sign Has EVERYONE Scratching Their Heads
19 July 2021 – Everyone is freaking out over a hilarious Biden sign that appeared on a roadside, but no one is quite sure what it means. 
The basic message of the sign is obvious, but a subtle drawing in the corner has everyone scratching their heads as to what exactly it's saying. 
We must make it clear that no matter what the political message, we do not support vulgar road signs that could potentially be seen by children. 
The viral sign is a real knee-slapper, and we approve the message, but it should be strictly reserved for adult audiences and not on a roadside. 
Watch the full video to see why everyone is talking about this funny road sign…
Mike Pence Thought Secret Service Were 'CONSPIRING' Against Him on January 6th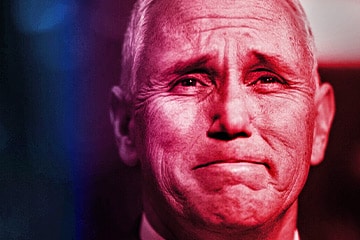 17 July 2021 – A new book claims that on January 6th, Mike Pence refused to get into a secret service vehicle because he was afraid of some conspiracy theory.
According to journalists, Pence would not leave the Capitol building because he feared a conspiracy" to "vindicate the insurrection."
Mr. Pence was initially evacuated from the senate chamber on January 6th and then moved to his ceremonial office where he was protected by the secret service. 
The lead agent in charge, Tim Giebels, asked Mr. Pence to evacuate the building twice, which Pence refused to do. 
Pence said, "I'm not leaving the Capitol", claiming that the sight of him leaving would vindicate the insurrection. 
That's not all…
Later, Pence refused to get into his armored limousine saying "I'm not getting in the car, Tim…I trust you, Tim, but you're not driving the car. If I get in that vehicle, you guys are taking off." 
Clearly, he didn't trust his secret service detail and felt they were trying to drive off with him!
Whether the account is true remains to be verified, but it's interesting to hear that Mike Pence thought the secret service was trying to help Trump in some way rather than protect him. 
This is more evidence that the relationship between Trump and Pence is rocky at best.
With it looking likely that Trump will be running for president in 2024, the chances of Mike Pence running as vice president seem extremely unlikely as Trump has hinted at Ron DeSantis being a potential running mate. 
Fauci Emails Reveal 2 KEY Things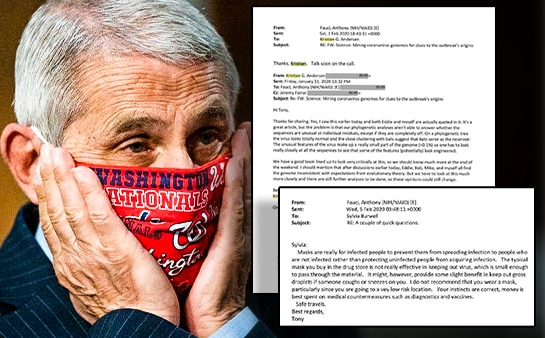 03 June 2021 – In the blink of an eye Dr Fauci's reputation goes down the drain where it belongs. 
Thousands of private emails have been leaked from the US infectious disease chief Dr Anthony Fauci. The emails were obtained by the Washington Post, Buzzfeed and CNN through Freedom of Information Act requests. 
Over 3,000 pages have been leaked but to save you the trouble of reading it all, we are going to summarize the key points and laugh at the Democrats while we all chant, "Trump was right, Fauci was wrong!"
What the Fauci emails show that is so embarrassing for Dr Fauci is that everything he has said to the public has been a lie and he knew it!
Firstly, a scientist told him in an email directly sent to him that "some of the features (potentially) look engineered." The scientist then went on to say that with the agreement of his colleagues, they "all find the genome inconsistent with expectations from evolutionary theory." In other words, they all agree that the virus looks engineered and is most likely not natural.
Dr Fauci has been consistent in preaching that he does not think the virus is engineered or that the Wuhan lab leak theory is credible. Yet, we now know he was told the exact opposite by a team of scientists in an email dated 1 February 2020. 
Dr Fauci is famous for his love of masks; he has frequently encouraged the public to wear them even if they have been vaccinated or have natural immunity. However, an email he sent to a colleague in February 2020 said, "Masks are really for infected people…" and "the typical mask you buy in the drug store is not really effective…". Wow! 
Here's the bottom line:
You can read the emails yourself but what they tell us loud and clear is that Dr Fauci says one thing to the public and then the exact opposite to his friends and colleagues. 
How can we ever trust anything he says again? We can't.
These WOKE Billboards Will Make You FUME! (MIND = BLOWN)
The craziest billboards you'll ever see! Woke billboards have been put up in San Diego, California blaming newborn health problems and premature births on racism and discrimination! 
The billboards used premature birth statistics and linked them to racism with no scientific backing. Critics were quick to point out that the billboards themselves will instill more distrust amongst black women and their doctors as well as cause more division in the community. 
The billboards were even paid for with tax dollars and put up by a public health organization. Many are arguing for the woke billboards to be taken down immediately and the person who authorized them punished. 
Watch the full video to see the billboards that will blow your mind…
Biden Confused and Admits He's NOT PRESIDENT!? | Biden Gaffe
Biden confused himself with Kamala Harris in a recent speech when he accidently admitted that he's maybe not the President!? 
Usually, we would let one Biden gaffe slip, but this particular type of Biden blooper also happened a few weeks earlier when he called Vice President Kamala Harris, President Harris! It could all just be one of many Joe Biden gaffes that are confused and nonsensical or maybe the truth about who is president is not as clear as we think.
 It is no secret that even the Democrats know that Joe Biden is getting more confused each time he makes a public appearance and they are trying to limit his airtime. Could someone that is that confused run the United States and get given the nuclear codes? 
Watch the full video to see Joe Biden confused…
CHAUVIN MISTRIAL: Photo Emerges of Jury Member that could cause Mistrial
Chauvin mistrial now highly likely. A devastating photo (for the prosecution) that could easily cause a mistrial has emerged of a jury member from the Derek Chauvin trial. 
The photo shows that the jury member was clearly a BLM supporter or activist. It also appears that the jury member may have lied to the court about whether he participated in BLM protests. 
The Chauvin defence team now has the right to ask the judge to go back and question the jury member and reconsider if the Chauvin verdict still stands. A Derek Chauvin mistrial is now highly likely because not only could the jury member have been biased but also because he may have not told the truth. 
Watch the full video to see the photo…
Chauvin's STRANGE Reaction to the Verdict (And OUR Reaction and Analysis of the Chauvin Trial)
The verdict for the Derek Chauvin trial is in. Derek Chauvin's reaction was surprisingly strange as the judge read out the jury's verdict to second-degree murder, third-degree murder and manslaughter charges. We also react to the verdict and give our analysis of the whole Chauvin trial and the final result. 
No trial in recent memory has been more politicized than this one, particularly by the left-wing as many politicians weighed in on what the verdict should be. President Biden even weighed in before the verdict saying the evidence was overwhelming! 
Watch the full video to see Derek Chauvin's strange reaction to the verdict and our full analysis of the trial. 
HORRIFYING Dashcam Footage Captures Cop GUNNED Down at Traffic Stop by Drug Dealer
Newly released body cam and dashcam footage captured a drug dealer viciously gunning down a police officer at a routine traffic stop in New Mexico, United States. 
During the routine traffic stop the cop asked the suspected drug dealer if he had a firearm and asked if he could have it for his safety until the routine checks were completed. The drug dealer, who has been released from prison numerous times, stepped out of the vehicle and started gunning down the officer with the rifle. 
The officer was hit in the head and very sadly passed away. Watch the full video to see the shocking clip and the full story…
Cornell University CANCELS Race Descriptions of Criminal Suspects
This is crazy! How are they are going to identify suspects? Cornell University has gone full 'woke' and cancelled the use of race descriptions by campus police in crime alert emails. No longer will the skin color of a suspect be used as an identifying factor. 
The Cornell University faculty said, "These emails consistently foreground the race of suspects, sometimes listing race and gender as the only distinguishing features of unidentified criminal suspects," and that doing so could put the black community in 'danger'. Usually, to identify suspects from a distance police use height, weight, race and gender as the only effective ways to identify an individual. This craziness puts the whole community in danger! 
Watch the full video to hear the full story and see the official statement from Cornell University…
Biden Gaffe: He Confuses OBAMA With OSAMA Bin Laden!
Biden gaffes during a confused speech where he gets President Obama mixed up with Osama Bin Laden! During Joe Biden's most recent speech, the President announced the final withdrawal of all US troops from Afghanistan. 
After a 20-year presence in Afghanistan, President Biden said, "it's time to end the forever war" and that the main objective of capturing and killing Osama Bin Laden (President Obama in Biden's head!) was achieved. The US aims to have all its troops out of Afghanistan by September 11th 2021. 
Watch the full video to see the hilarious Biden gaffe and the full confused speech where he confuses Obama for Osama…
Sisters (Aged 3 and 5) THROWN Over Border Wall by Smugglers!
Shocking and disgusting footage has emerged of two girls aged 3 and 5 being literally thrown over a 14-foot border wall in a remote section of New Mexico by a pair of smugglers. The girls hit the ground hard and were then handed a small package (drugs). 
The Biden administration continues to downplay the border crisis, but a border patrol agent recently said that exploitation of children and their families is happening all around the border by criminal organisations. 
Watch the full video to see the shocking clip. 
LOL: Easter Bunny Wears GIANT Mask During Biden Speech
During Biden's Easter speech from the White House balcony, the Biden administration decided it was a good idea to put a giant custom-made ridiculous mask on the Easter Bunny! 
Biden and Jill also wished everyone a happy Easter in a very insincere and scripted video posted to Twitter. 
We also take a look at an epic Easter statement from Donald Trump where he took aim at the 'radical left crazies'! 
Watch the full video to see all the latest news from over Easter! 
Biden Gaffe | CONFUSED Speech Where he says he will Cure Cancer!?
Biden gaffe after Biden gaffe! Joe Biden delivered a bizarre and confused speech at FEMA when he went from curing cancer to landing on Mars to what appears to be in his mind coaching little league! He jumped from topic to topic and appeared to completely forget that he was giving a presidential speech.
During this confused speech, Joe Biden says that he will be the president to cure cancer. Fact-check, unfortunately, we're not close to beating cancer, scientists say we are 5-10 years away from even getting close to a cure. It's likely that we may never be able to cure cancer completely as it's such a vast disease. There are over 200 types of cancer and each is diagnosed and treated differently. For President Biden to say he knows they will cure cancer during his term is misinformation.


It was bizarre statement, considering Biden has not even cured the COVID pandemic, which is still raging through America with new variants popping up everywhere. If they do get COVID under control, it's thanks to the vaccine which was created under President Trump.


At the end of this Joe Biden speech, he seems to forget where he is and starts talking like he is trying to motivate some children for a sports match, not giving a presidential address. The whole speech came across as very confused and inappropriate.


It's tragic to see Biden so confused but it's just not acceptable for a sitting President to be in this mental condition and that's why it's important for these Joe Biden gaffe videos to be seen by the public because the mainstream media hide it and are complicit in this abuse.


Watch the full video to see Biden's confused speech. 
Demi Lovato SLAMS Gender Reveal Parties as TRANSPHOBIC
Demi Lovato has slammed gender reveal parties as transphobic, saying "This is not about being politically correct, it's about being correct". Referencing transgender rights activist Alok Vaid-Menon's original post, it went on to say, "Only individual people can self-determine their gender."
Well, she should check with a geneticist, because what determines gender at birth is whether the baby has two X chromosomes (girl), or one X and one Y chromosome (boy). Other than the rarest of conditions, it is that simple. That is what is correct.


Biological sex is a genetic fact, and we should keep it that simple for children. Once a child is a grown adult with a proper understanding of biology and gender can they then make a decision to identify as transgender.
Now, whether gender reveal parties are safe is a different issue as a man was recently killed when a device that he was building for a gender reveal accidently exploded, killing him and injuring his brother.
Another gender reveal party went horribly wrong when the dad accidently fired a confetti canon into his crotch!
Watch the full video to see the whole story! 
Join a support network of patriots for FREE and gain full access to our exclusive forum, social media groups, and newsletter.
By joining, you'll automatically get the chance to WIN a free LifeLine Community t-shirt and more amazing goodies!
Politics
The latest uncensored news and conservative opinions in US, UK, and global politics.
get the latest
Business
Real and uncensored business news from around the world.
get the latest
Finance
Alternative financial news with uncensored facts and unbiased opinions.
get the latest
Law
In-depth legal analysis of the latest trials and crime stories from around the world.
get the latest
Join the movement on social media...