Uncensored World News
The latest uncensored world news.
TOP STORY:
Dangerous Precedent? Spanish Court Rules in FAVOR of Man's 'Right' to Walk the Streets NAKED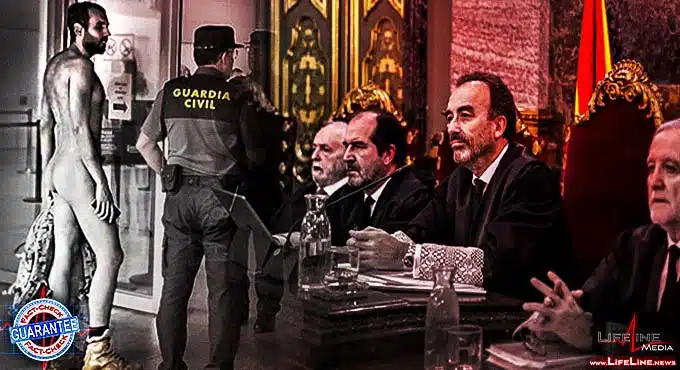 A Spanish high court has ruled in favor of a man's right to walk naked in the streets...See more.
"DELTACRON"? This is Why You SHOULDN'T Panic
10 January 2022 – Scientists in Cyprus have discovered a new Covid strain that is allegedly a combination of the Delta and Omicron variants.
The Delta and Omicron strains are highly virulent and are responsible for the recent spike in infections.
A combination of those two variants sounds distressing…See more.
Vaccine MANDATES: These 4 Countries Could Reveal a CHILLING Future
05 December 2021 – The unthinkable is becoming reality. Could these 4 countries give us a window into a chilling future without freedom?
Vaccine mandates seemed crazy a year ago, but some countries are demonstrating that mandates are coming. 
Biden tried…See more.
TRANSGENDER Weightlifter Laurel Hubbard Named SPORTSWOMAN of the Year
02 October 2021 – Transgender Olympic weightlifter, Laurel Hubbard, has been named sportswoman of the year by the University of Otago at the Blues awards this week in New Zealand. 
The controversial decision means that Hubbard, 43, is the first transgender athlete to win the award. 
Laurel Hubbard…See more. 
GRUESOME: Taliban Hang DEAD BODY in City's Main Square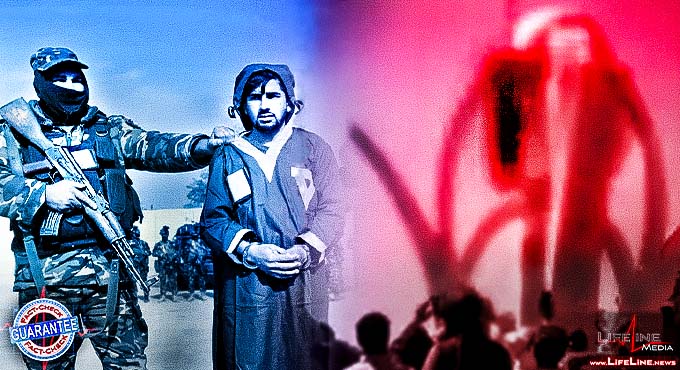 25 September 2021 – According to a witness, the Taliban hanged a dead body from a crane in the main square of Herat city in Afghanistan. 
The witness, who runs a pharmacy on the side of the city square, said that the Taliban announced the killing of four people who were involved in an attempted kidnapping and were subsequently killed by the Taliban police. 
One of the bodies was hanged in the city's main square while the other three were moved to different areas of the city to be displayed. 
It was not clear if they were killed in a firefight with police or were executed after.
Mullah Nooruddin Turabi, one of the founders of the Taliban had previously told The Associated Press that the Taliban will once again carry out executions and the amputation of hands to enforce Islamic Law. 
It's been over a month since the Taliban took control of Kabul and Afghanistan on 15 August 2021. 
Due to the chaotic withdrawal of US troops, high-tech military equipment and weapons were left behind which are now in the hands of Taliban militia. 
Fears that a Taliban-controlled Afghanistan would facilitate terror groups such as ISIS and Al-Qaeda were not unfounded, indeed, a suicide bombing at Kabul airport killed 13 US servicemen. 
The retaliatory drone strike from the US army that was meant to kill the bomber, instead, killed 10 Afghan civilians, including 7 children. 
The Afghan situation continues to deteriorate with the Biden administration providing little direction to remedy the situation. 
FACT-CHECK GUARANTEE (References): [Straight from the source: 1 source]
'Misogyny': Liberals REACT To Pictures Of Ukrainian Soldiers Wearing High Heels
03 July 2021 – Pictures emerge from Ukraine that show female soldiers marching in high heels during a military parade rehearsal. 
Ukrainian defense ministers were accused of make a 'mockery' of women. The pictures emerged from a rehearsal for a military parade taking place in August.
The parade is celebrating 30 years of independence for Ukraine following the break-up of the Soviet Union. 
"Today we are training in high heels for the first time. It is a little more difficult than in combat boots but we are doing our best," said one of the female soldiers taking part. 
Israel-Palestine: UNSEEN SHOCKING Footage from on the Ground (UNCENSORED)
15 May 2021 – UNCENSORED bone-chilling never seen before footage of the Israel-Palestine conflict. Extremely hard to watch footage shows the devastating conflict and civilian casualties on the ground in Israel and the Gaza Strip.
In the worst conflict seen in years between Israel and Palestine heating up to a boiling point, it is looking more and more likely that a full-scale war is approaching say many sources. 
For weeks, Palestinian protesters have been fighting with Israel police in Jerusalem. On Monday, the violence was taken up a level by Palestinian militants (Hamas) in Gaza when they fired over 150 rockets into Israel. 
It looks like both sides are preparing for the violence to continue for several days with chances of a full-scale war looking likely according to some sources. 
Watch the full video to see the exclusive and uncensored footage…
Israel-Palestine: FULL-SCALE War Approaching Say Sources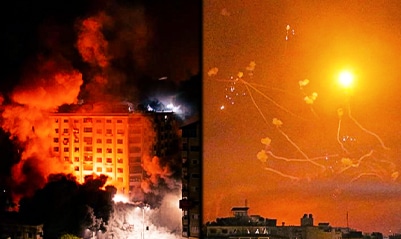 12 May 2021 – For weeks, Palestinian protesters have been fighting with Israel police in Jerusalem. In last few days tensions escalated further when Israel police stormed the Temple mount. 
On Monday, the violence was taken up a level by Palestinian militants in the Gaza Strip when they fired over 150 rockets into Israel with intention of targeting civilians. At least 5 people were killed and over 100 people injured from strikes on Tel Aviv, Lod and Ashkelon. 
Israel responded with airstrikes targeting terror targets in Gaza. The official Israel Defense Forces Twitter account warned civilians in Gaza saying, "To the citizens of Gaza: The IDF is striking Hamas weapons stores hidden inside civilian buildings in Gaza… Our goal is only to strike terror."
More rockets were fired at Tel Aviv at 3am local time as citizens were woken up and sent to bomb shelters. To make matters worse, waves of civil unrest rages as Palestinian citizens of Israel express their anger over the airstrikes. 
In the last few hours, the IDF announced that they have "neutralized key figures of Hamas' intelligence: Hassan Kaogi, head of the Hamas military intelligence security department & his deputy Wail Issa, head of the military intelligence counterespionage department."
It looks like both sides are preparing for the violence to continue for several days with chances of a full-scale war looking likely according to some sources. This comes months after the Biden administration took over the White House as enemies of Israel no longer fear of a retaliation from the United States if they attack Israel.
President Trump made a statement from his new platform defending Israel saying, "America must always stand with Israel and make clear that the Palestinians must end the violence, terror, and rocket attacks, and make clear that the U.S. will always strongly support Israel's right to defend itself."
President Biden has been Tweeting regularly about vaccines, women's health and LGBTQ+ rights but has yet to tweet anything about the conflict where many have already died! 
India Coronavirus: These HORRIFIC PHOTOS from India will HAUNT You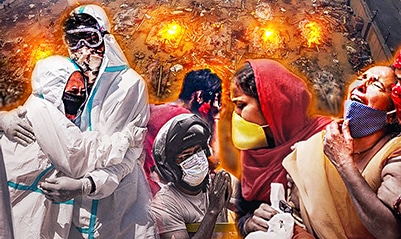 02 May 2021 – India's coronavirus death toll hits a daily record on 2 May 2021. 
The health ministry reported that 3,689 people had died within a 24-hour period from coronavirus infection. The country is in utter turmoil from the new variant of COVID-19 and hospitals are battling with a shortage of beds and oxygen. Horrific images are emerging from the country as it also became the first country to record more than 400,000 new COVID-19 cases in 24 hours. 
As case numbers are now close to reaching 20 million, the authorities in Delhi have now called for help from the Army. Delhi's government requested that the army step in to run coronavirus care facilities and intensive care units. 
The United Kingdom has sent 1,000 ventilators but Boris Johnson is facing growing pressure to help India's vaccine supply by cancelling an order of 5 million AstraZeneca doses for the UK. Boris Johnson commented on the coronavirus situation in India, saying "The UK will always be there for India in its time of need." Whether India will keep the 5 million doses remains to be seen but Delhi has not officially asked for the order to be cancelled.   

Images of burning funeral pyres in car parks are truly harrowing as crematoriums in Delhi can't keep up with the number of bodies. Family members are seen collecting ashes of their loved ones after mass cremations have taken place. A relative of a COVID-19 patient is seen pleading with police to replenish their relative's oxygen supply.   

A fire broke out on last week in the Patel Welfare Hospital in Bharuch killing 17 coronavirus patients and 2 health workers. An image of a charred hospital bed is seen.   

The surge in coronavirus cases has been attributed to numerous factors including the new variant of the virus called B.1.617 or the 'double mutant', as it appears to have mutated in two different areas. Relaxed restrictions from a drop in cases are also believed to be partly responsible and decreased humidity also may be a factor.   

India has a population of 1.3 billion but has only immunised under 150 million of its citizens with most of them still waiting for the second jab. It needs hundreds of millions of doses quickly to protect the rest of its population. It's unclear how many vaccines the country has in stock for itself despite being a manufacturing hub.
Join a support network of patriots for FREE and gain full access to our exclusive forum, social media groups, and newsletter.
By joining, you'll automatically get the chance to WIN a free LifeLine Community t-shirt and more amazing goodies!
Politics
The latest uncensored news and conservative opinions in US, UK, and global politics.
get the latest
Business
Real and uncensored business news from around the world.
get the latest
Finance
Alternative financial news with uncensored facts and unbiased opinions.
get the latest
Law
In-depth legal analysis of the latest trials and crime stories from around the world.
get the latest
Join the movement on social media...