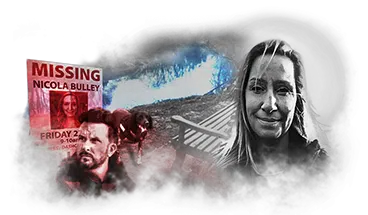 Breaking Now
Nicola Bulley tragically died from accidental drowning, according to the Lancashire coroner. The official verdict came after a two-day inquest, putting to rest the whirlwind of conspiracy theories surrounding her case.
LANCASHIRE, United Kingdom — A British mother vanishes, her beloved dog abandoned in a field, her phone on a bench still connected to the call…
Seen at 09:10 am — gone at 09:30 am.
No CCTV or any video footage of her leaving the field, leading police to focus on one theory — the river.
But there's more …
Throw in rumors of mental illness, alcohol, previous welfare checks, and of course — a male partner — and you have a recipe for social media anarchy. Indeed, Nicola Bulley's case has not only taken the UK by storm, but the whole world wants to play Sherlock Holmes.
Nicola Bulley, 45, disappeared without a trace on 27 January 2023 between 09:10 – 09:30 am while walking her springer spaniel along the River Wyre in the village of St. Michael's on Wyre, Lancashire.
It was a regular morning for Nicola, who dropped off her two daughters, aged six and nine, at school around 08:40 am. Bulley, who works as a mortgage advisor, left her vehicle in the car park and set off to walk her dog, named Willow, along the river.
Meanwhile, she emailed her employer and connected to a Microsoft Teams call for work at 09:01 am. She kept her microphone and camera disconnected and listened to the call, which was perfectly normal for her.
She was spotted walking by someone who knew her at around 09:10 am — this was the last sighting.
Just over 20 minutes later, another dog walker found Willow and her phone placed on a bench by the river with the call still connected.
What's extraordinary is the lack of evidence — gone without a trace — which led detectives to quickly believe the obvious answer was the flowing waterway right in front of the bench. With the addition of the disclosure that Bulley was classified as vulnerable, citing apparent struggles with menopause and alcohol addiction, detectives are leaning on the idea that she willingly walked into the river rather than fell.
Diametrically opposed to that theory are Nicola's family and partner Paul, who are keen to keep all options on the table, along with the possibility she willingly left and is unharmed.
Follow our uncensored live coverage here …
Nicola Bulley tragically died from accidental drowning, according to the Lancashire coroner. The official verdict came after a two-day inquest.
The police commissioner, Andrew Snowden, orders a review of the case to understand the impact of social media conspiracy theories on the investigation.
Police dive team conduct a second search of the River Wyre at the direction of the coroner to "assess the riverbanks."
The Kidderminster man (aka Curtis Media) who filmed and published footage of police recovering Nicola Bulley's body from the River Wyre was arrested on malicious communications offenses.
Day of Nicola Bulley's funeral. The Secretary of State for Transport implements a no-fly zone over the church in Saint Michael's on Wyre, Lancashire. The move was made to prevent TikTok detectives from filming the funeral with drones.
The coroner is set to release the body of Nicola Bulley to her family for funeral arrangements, but a full inquest into her death will take place in June.
Police confirm that the body found was missing mother, Nicola Bulley.
Unidentified body found in River Wyre approximately one mile from where Nicola Bulley was last seen in St Michael's on Wyre, Lancashire.
Police hold a press conference and disclose information about the vulnerability of Bulley. They still maintain the hypothesis that she went in the river.
Strong reaction from the public. Two people were arrested under the UK's malicious communications act for sending "vile" messages to parish councillors over Nicola Bulley.
Dog walker finds the dog loose and Bulley's mobile phone left on the bench with the call still connected.
Last sighting. Nicola was seen walking in the field. She was connected to a Microsoft teams call on her phone.
Police officers and health professionals are called to the family home based on a welfare concern. No arrests made, but the incident is still under investigation.
The "working hypothesis" from detectives is that the mother went into the river. They suggest that foul play is unlikely.
The family of Bulley, including her partner, strongly refutes the river hypothesis.
Police claim that Bulley was classified as "high risk", disclosing that she was struggling with alcohol and menopause-related issues.
On the morning she disappeared, her partner said that she was unusually organized in getting the children ready for school, suggesting that, perhaps, she had planned to disappear.
Nicola has not been caught on CCTV or any dashcam footage reviewed by the police so far.
There was a sighting of a red van in the area that police have asked the public to help them identify and track down. Additionally, several fishermen have been described as suspicious by witnesses but police are not taking these theories too seriously.
The Top Theories Right Now
The family's worst fears came true on Sunday, 19 February, when Nicola's body was found in the river just one mile from where she disappeared.
Believe it or not, her body was discovered by a "psychic medium," who took it upon himself to join the search and use what he described as his "gift" to help find the missing woman.
The body was officially identified on Monday, 20 February, using Ms. Bulley's dental records.
Nicola Bulley has been found — but the question now is, what killed her?
From the beginning, detectives advertised that they thought Nicola Bulley's disappearance was not suspicious and that she simply went into the river.
They pictured a "high-risk" woman suffering from mental health issues who entered the water to end her suffering.
Police reasoned, and wrongly publicized, that Bulley was struggling with the hormone changes of menopause and developed a dependency on alcohol. A previous welfare concern that led to police and health professionals arriving at the family home earlier in January supported this theory.
To the police, the evidence pointed to a troubled mother who chose to end her life on that January morning. At present, that explanation seems the most straightforward until more forensic information about the body is released.
Of course, one of the primary suspects in these cases is always the romantic partner or spouse. Indeed, statistics show that a majority of female murder victims are killed by an intimate partner or family member.
According to the United Nations, 82% of all female homicide victims are killed by their intimate partner — even though over 80% of all murder victims are men, they are more likely to die at the hands of a stranger.
So, it didn't take long for some to point the finger at Bulley's partner Paul Ansell, 44, despite there being no evidence against him.
Internet sleuths focussed on Mr. Ansell's body language, suggesting he was cold and emotionless in interviews. Such rumors were compounded by early media reports suggesting the police considered him a suspect.
Eventually, friends of Nicola Bulley came to Paul's defense, saying there was CCTV evidence that ruled him out and police were not pursuing that line of investigation further.
Mr. Ansell also sat down with Channel 5 for an extended interview about the case and the many rumors surrounding it. The Behavior Panel, four of the world's top body language experts, released a video analyzing his behavior in the interview and concluded he was a genuine, grieving partner in their opinion.
Another prominent theory is that someone abducted and murdered Nicola Bulley and put her body in the river to make it look like a suicide.
One can only speculate on the reasons for the abduction — an opportunistic sexual predator, a stalker, an ex-partner, someone with a grudge, or just a cold-blooded killer.
The cause of death is one of the vital pieces to this puzzle. The autopsy has already been completed, but the coroner will rule on the mother's cause of death during the inquest in June.
For a deeper look into this theory about how an abductor used the police's "working hypothesis" to conceal the actual crime, take a look at the article below: