Watch the now-deleted video that the media doesn't want America to see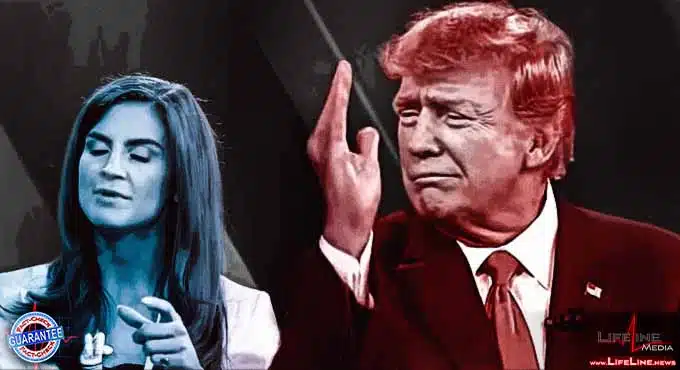 FACT-CHECK GUARANTEE (

References

): [

Straight from the source

: 1 source] [

Official statistic

: 1 source]
 | By Richard Ahern — In a twist of events that no one saw coming, the media giant that has been a thorn in Donald Trump's side for nearly a decade just handed him the presidency on a silver platter with a town hall that revealed the truth in the most satisfying way possible.
In a move that left many astonished, CNN decided to host a "Republican town hall" with the former and now future president of the United States, Donald Trump, where he was questioned by CNN anchor Kaitlan Collins in front of an audience of Republicans and independents.
He came in like a wrecking ball…
From the get-go, it was unmistakable that the CNN-picked audience was firmly behind President Trump. Contrary to what CNN may have anticipated, the crowd readily cheered Trump's statements and chuckled at his signature wit — notably during an exchange when he labeled Collins a "nasty person."
Following the event, the media went into meltdown, furious at CNN for giving the former president a platform. Host Kaitlan Collins, CNN's former White House correspondent during Trump's presidency, was criticized for her perceived lackluster fact-checking of the Republican heavyweight. But, despite her best attempts, the audience saw right through her agenda.
It was symbolic:
The hour-long live event painted a vivid picture of Trump as a strong leader backed by unwavering public support — while Collins was emblematic of a desperate legacy media gasping for relevance.
The backlash was foreseeable — the event not only reflected poorly on CNN but also cast a shadow over the entire media establishment. Yet, for Donald Trump, the optics were flawless — viewers saw him as a man of the people, standing in stark contrast to the media, increasingly perceived as the enemy of the ordinary citizen.
Donald Trump answered questions from the audience on a range of key topics…
Trump's reaction to the E. Jean Carroll verdict
In the town hall, Trump criticized the verdict from a New York jury that found him liable for battery and defamation related to allegations by writer E. Jean Carroll that he sexually abused her in the mid-1990s.
The verdict from a jury in the Democrat stronghold of New York awarded the writer $5 million — although they did not find Trump liable for rape, which is what Carroll alleged in her book, "What Do We Need Men For?: A Modest Proposal."
The verdict seems to have only strengthened the support for the former president, as the audience cheered as he called the feminist writer a "whack job."
When asked about election fraud claims in his presidential run, Trump indicated that he would only raise the issue if he believed it was happening again.
Concerning the 2020 election, Mr. Trump asserted that "unless you're a very stupid person," it was apparent the election was rigged. The fraud claims from Mr. Trump triggered CNN anchor Kaitlan Collins to repetitively interrupt, saying, "Mr. President… there's no evidence of election fraud."
When prompted by Collins, Trump declined to apologize to his former vice president, Mike Pence, for the events of January 6th, arguing that Pence "did something wrong" by not putting the votes back to the state legislatures.
Trump's take on the economy
Amid the impasse over the debt ceiling, Trump advocated for Republicans to stand firm on their demand for spending cuts. Trump proposed that Republicans should be willing to risk default if Democrats disagree with massive spending cuts — arguing that Democrats would ultimately cave to avoid a default.
Trump emphasized his concern about current spending levels, comparing the Democrat's spending behavior to that of "drunken sailors."
When asked by a member of the audience about pardoning those arrested on January 6th, Trump expressed a willingness to pardon a "large portion" of those involved.
In addition, he paid homage to Ashli Babbitt, a 14-year veteran of the United States Air Force and a "patriot" who was shot and killed by a police officer at the Capitol.
Trump weighs in on Ukraine
Donald Trump expressed a desire to end the war between Russia and Ukraine, emphasizing his wish to cease the loss of life on both sides.
Unfortunately, some media outlets attempted to twist this compassionate stance into something negative.
Trump expressed dissatisfaction with the U.S. providing more funding to Ukraine for the war than the neighboring European nations. However, if he was in office, the president confidently claimed that "within 24 hours, that war will be settled. It will be over."
In a nutshell, CNN shot itself in the foot. It was so embarrassing that they appear to have removed the full video from their YouTube channel — but you can watch it right here above!
The media's loss was a huge win for Republicans and Trump supporters — it could not have gone better!
Alongside the optics being perfect, Trump appeared in fantastic shape physically and mentally, demonstrating a solid understanding of all the questions and completing coherent sentences. Seeing him dismantle Kaitlan Collins, a young and clearly intelligent journalist, should make Democrats tremble at what he would do to Joe Biden in a debate!
We need YOUR help! We bring you the uncensored news for FREE, but we can only do this thanks to the support of loyal readers just like YOU! If you believe in free speech and enjoy real news, please consider supporting our mission by becoming a patron or by making a one-off donation here. 20% of ALL funds are donated to veterans!

This article is only possible thanks to our sponsors and patrons!