BLACKBURN BLASTS Biden: The Deterrence Disaster and the Fight to Regain Trust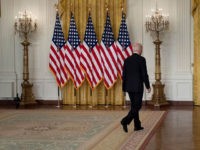 — Senator Blackburn has recently taken President Biden to task over his approach to national security. She stressed the urgency of an "effective kinetic response" in order to restore deterrence, which she argues has been undermined during Biden's tenure.
Blackburn highlighted that discontent within the Pentagon stems from the poorly executed withdrawal from Afghanistan. This incident sparked widespread skepticism towards the Biden administration among military ranks.
She further contended that even when faced with alternative strategies, President Biden stubbornly stuck with his flawed plan. He then hailed it as a success, contradicting the military's evaluation.
In Blackburn's view, restoring deterrence and executing an effective kinetic response are vital steps towards regaining credibility and trust within our nation's defense department.