JEFFRIES' JUDGEMENT: Praises Biden, Condemns 'Irresponsible' Maga Republicans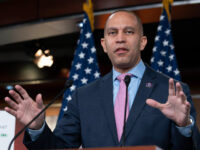 — Jeffries recently commended President Biden's leadership, emphasizing his efforts to uphold the special bond between the United States and Israel. He also underscored Biden's commitment to Ukraine in the face of Russian aggression and his provision of humanitarian aid to Palestinians in Gaza.
The House and Senate are ready to proceed under Biden's guidance, Jeffries stated. However, he lambasted extreme MAGA Republicans for their alleged attempts to tie aid to Israel during its conflict. Jeffries branded this move as "irresponsible," accusing them of political isolation.
Jeffries called for a comprehensive review of President Biden's proposed package, citing the current perilous global climate. He criticized what he perceives as partisan games played by extreme MAGA Republicans. Jeffries characterized their actions as "unfortunate" during these challenging times.