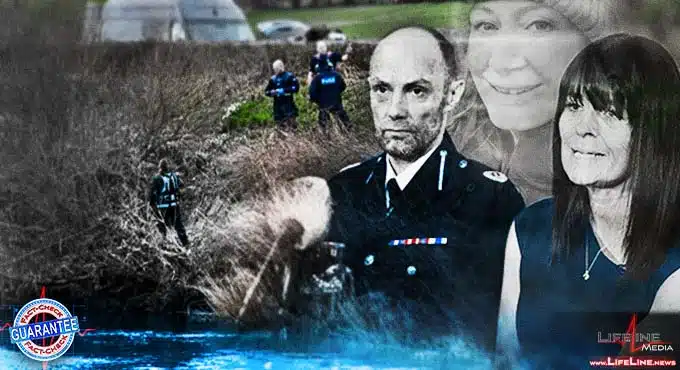 FACT-CHECK GUARANTEE (

References

): [

Peer-reviewed research papers

: 2 sources] [

Government website

: 1 source] [

Straight from the source

: 1 source] 
| By Richard Ahern — When British mother Nicola Bulley vanished on 27 January near the River Wyre, the police quickly piled onto one theory.
Detectives constructed a profile of a vulnerable woman suffering from mental health issues, fueled by hormone changes and alcohol, who chose to leave it all behind that January morning.
Disputing that profile was Bulley's family and partner, who were not convinced she purposely walked into the water to end her life, leaving her two young girls behind and the family dog loose in a field.
After three weeks of searching the water, it began to look like the river theory was premature. Nonetheless, detectives maintained their "working hypothesis," which was that Bulley, 45, drowned in the River Wyre.
Why were they so confident in this theory?
When officers revealed more information, they were scolded by the media and the public for breaching the mother's privacy. According to police, the missing mother suffered from mental health problems associated with menopause and alcohol.
Along with an apparent welfare concern that led to police and health professionals arriving at the family home weeks earlier, they classified Nicola as "high risk."
Days later, the "working hypothesis" came to fruition…
Four days after the controversial press conference, a body was discovered in the river one mile from St Michael's on Wyre, Lancashire, where Ms. Bulley went missing while walking her dog. So when police announced this discovery on Sunday, 19 February, it seemed inevitable that it was Nicola.
Sadly, on Monday, the family's worst fears came true when coroners used dental records to confirm the body was the beloved missing mother of two.
It begs the question:
How did the police just find her body after three weeks of searching the area?
This is the burning question many are asking, with some speculating it seems almost too convenient. Indeed, police have been searching the water extensively as this was always the top theory, to the point that they recruited a private search team with specialist equipment.
The search team lead, Peter Faulding, was adamant that she wasn't in that stretch of river. "If we can't find her in the next three or four days in this river… then I'm confident that she's not in this stretch of river," he commented. In the aftermath, search expert Peter Faulding has reportedly been struck from the police database of private contractors.
As the days and weeks passed, there were discussions about moving the search out to sea, assuming the current would have carried the body far away by this time.
Still, after all that, her body appears in the same stretch of river where the specialist team searched and only one mile away from where she went missing.
It doesn't add up to some online detectives — perhaps she was placed into the river after a crime was committed?
Of course, depending on the timeframe, it should be possible for the police to rule this out once a forensic analysis is completed. However, if forensics can't unequivocally say that time of death was three weeks ago — and that decomposition is consistent with a body left in water — then the suicide theory falls apart.
Think about it …
Hypothetically speaking — the abductor watches the police's press conference just days earlier and sees detectives fixated on the theory of a vulnerable woman who went into the river. If said abductor is smart and wants an easy way out, they would give the police what they want before the hypothesis changes.
As a result, detectives feel validated and swiftly close the case.
Perhaps the police played their hand wrong and made a critical mistake by broadcasting that they think she's in the river — they're giving a potential abductor a way out.
Then again, there are reasonable explanations for why Nicola Bulley was not found earlier:
For starters, the dive team used side-scan sonar, which provides detailed outlines of all objects in the water. Still, it cannot penetrate reeds on the side of the river — where they found her. Such areas have dense vegetation that can easily conceal a body and must be searched manually.
Another possibility is that the body was stuck behind an object on the river bed that concealed it from the sonar scan.
Finally, some experts suggested that she was swept out much further but was brought back upstream when the tide came in.
To answer these questions, it will be critical for forensics to determine the time and cause of death and also if the decomposition is consistent with a human body left in the water as opposed to other environments.
Warning, this is gory:
Studies have shown that decomposition is slower in water due to cooler temperatures and reduced oxygen. Remains decomposing in aquatic environments can appear strikingly different because of how bacteria act on the corpse, often leading to an incomplete transformation of fatty tissue known as adipocere formation, sometimes called "grave wax". 
An experienced forensic scientist will use this information to determine the likelihood of suicide, accident, or murder. Her body has been released to the family, and a full inquest into the death is scheduled for June.
We can only hope that the family will get the answers they seek and get some closure in this tragic case.
We need YOUR help! We bring you the uncensored news for FREE, but we can only do this thanks to the support of loyal readers just like YOU! If you believe in free speech and enjoy real news, please consider supporting our mission by becoming a patron or by making a one-off donation here. 20% of ALL funds are donated to veterans!

This article is only possible thanks to our sponsors and patrons!
Join the movement on social media...