The public might think so, as more NHS strike action could backfire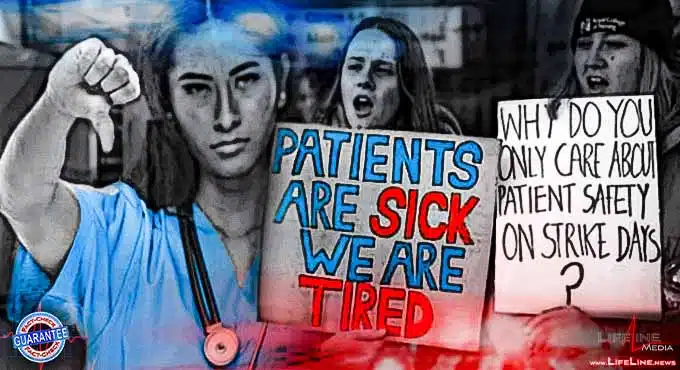 FACT-CHECK GUARANTEE (

References

): [

Official Statistics

: 1 source] [

Straight from the source

: 2 sources]
 | By Richard Ahern — Nurses are preparing to stage the most extensive strike yet after a shocking rejection of the government pay offer — an offer that union leaders supported.
After months of strike action from NHS workers, the British public celebrated when the unions struck a deal with the government in March. Despite that, on Friday, the Royal College of Nursing (RCN) announced the ballot results, which saw a slight majority (54%) of their members vote against the government's pay offer. The surprising result clashed with the recommendation of many union leaders and the larger workforce.
Overall most nurses wanted the pay deal…
Most members of Unison, the largest health union in the United Kingdom, backed the deal that offered staff a 5% pay rise in 2023-24 and a one-off bonus equal to 2% of last year's wages. However, members of the RCN did not concur with their counterparts in other unions.
It gets worse…
With this disappointing news, strike action is returning with a vengeance. Nurses who rejected the pay offer are preparing to stage the largest strike so far that may be coordinated with junior doctors to deliver a crippling blow to the government.
Junior doctors, who are on a separate pay contract and thus not included in last month's offer, have been staging strikes asking for a "pay restoration" to bring their earnings back to the 2008 equivalent.
By coordinating together, workers will hope the government will buckle under the pressure — unfortunately, many fear such a move will also cripple the NHS and, ultimately, patient care.
The RCN has already planned a 48-hour walkout for May bank holiday (30 April to 02 May) and warned that critical and intensive care services would be unstaffed on strike days for the first time.
The government described the rejection as "hugely disappointing," but Unison said it would be urging ministers to implement the pay offer to members of other unions who voted "yes" despite the RCN's vote. Chancellor Jeremy Hunt urged unions that are still voting to accept the pay offer that is "best for patients and best for staff."
Most Unison members voted for the deal alongside a narrow minority (46%) of RCN members — who could feel they are being forced to walk out.
What do RCN members want?
The RCN general secretary, Pat Cullen, simply commented that the government "needs to increase what has already been offered…"
Unison took a more positive perspective, with spokesperson Sara Gorton saying, "Clearly health workers would have wanted more, but this was the best that could be achieved through negotiation."
Ultimately, the public will pay the price …
The RCN's vote could receive backlash from the public, who have been suffering the consequences of months of disruption from strikes in sectors across the board.
In January, we reported overall support for trade unions and striking workers was waning, with a sharp jump in people saying workers could "strike too easily."
Yet, despite the patient care consequences, nurses and ambulance workers continued to enjoy the most robust support from the public. Ipsos recently reported (April) that a majority (60%) of those surveyed still endorsed those NHS workers striking. Junior doctors see slightly less support, with just over half (54%) of Britons backing them.
In totality, across all NHS unions, we must note that most NHS staff supported the government's pay offer — thus, only a minority of the nursing workforce is driving the upcoming strike action.
Alongside a swath of nurses who will undoubtedly feel pressured to strike against their will, public opinion of the strikes could turn sour as striking nurses are perceived as simply — greedy.
We need YOUR help! We bring you the uncensored news for FREE, but we can only do this thanks to the support of loyal readers just like YOU! If you believe in free speech and enjoy real news, please consider supporting our mission by becoming a patron or by making a one-off donation here. 20% of ALL funds are donated to veterans!

This article is only possible thanks to our sponsors and patrons!
Join the movement on social media...