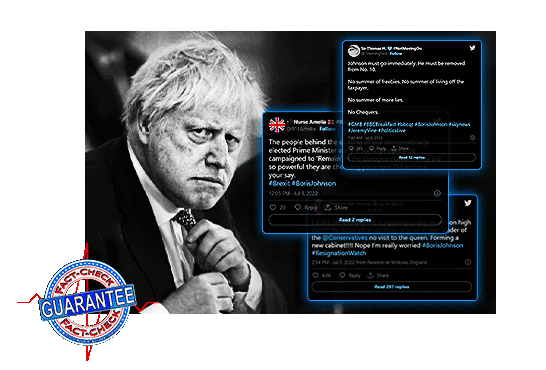 Social Media FIRESTORM — Boris Johnson has Resigned as Prime Minister of the United Kingdom...
09 July 2022 — After a wave of resignations from the government, including Johnson's top cabinet ministers and close allies – the Prime Minister had no choice but to resign reluctantly. Johnson's reputation first took a hit when the police fined him for breaking his government's own lockdown rules by hosting a party at 10 Downing Street – from that point on, things went from bad to worse.
Key Facts:
It emerged that Boris Johnson knew about sexual allegations against the deputy chief whip, Mr. Pincher, but did nothing about it and lied about knowing.
This sparked a flurry of resignations starting with Chancellor Rishi Sunak and Health Secretary Sajid Javid.
A joint letter was published by minsters Kemi Badenoch, Julia Lopez, Mims Davies, Lee Rowley, Neil O'Brien, and Alex Burghart – all resigning and saying the government "cannot function" with Johnson in charge.
Staunch supporters of Johnson, Home Secretary Priti Patel, and Transport Secretary Grant Shapps called for the PM to quit.
Boris Johnson finally bowed to the pressure, reluctantly announcing his resignation; despite trying to argue "that it would be eccentric to change governments." He said, "I regret not to have been successful in those arguments."
Johnson will remain in office until a new PM is chosen — which could take several months.
What the World is Saying...
A firestorm of social media comments followed, some supporting Johnson and others condemning him.
I don't like this one bit, it's got my spidey senses on high alert!!! No letter of resignation only no longer leader of the @Conservatives no visit to the queen. Forming a new cabinet!!!! Nope I'm really worried #BorisJohnson #ResignationWatch

— Sharron-lee Honey 🐠🐟🐡🇺🇦❤️ (@sharron_honey) July 7, 2022
Supporters of Johnson were quick to start a petition to reinstate him as Prime Minister, saying that he was "democratically voted in by the people of the UK" and that "we the people, decide to vote him out." The petition has almost reached 7,000 signatures.
Others questioned the legitimacy of the resignation, saying it is suspicious that he is forming a new cabinet and hasn't visited the queen.
The people behind the ousting of our democratically elected Prime Minister are the same people who campaigned to 'Remain' in the European Union. They are so powerful they are choosing your next PM without your say.#Brexit #BorisJohnson

— 🩺Nurse Amelia 🇬🇧 #BackBoris #YorksTory 💙 (@911Amelia) July 9, 2022
Many who welcomed Johnson's resignation weren't satisfied that he could remain in office for several months until a replacement was found — they demanded that he leaves immediately.
Nevertheless, some people expressed upset that Johnson was ousted by politicians, not the public who elected him.
Politics
The latest uncensored news and conservative opinions in US, UK, and global politics.
get the latest
Business
Real and uncensored business news from around the world.
get the latest
Finance
Alternative financial news with uncensored facts and unbiased opinions.
get the latest
Law
In-depth legal analysis of the latest trials and crime stories from around the world.
get the latest
Join the movement on social media...
Code Embed: Cannot use CODElnbanner as a global code as it is being used to store 2 unique pieces of code in 16 posts