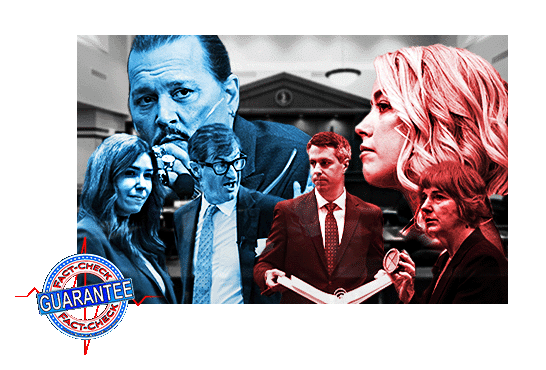 The jury begins deliberations after hearing emotional closing arguments...
28 May 2022 — The Johnny Depp v Amber Heard defamation trial reached its boiling point as testimony finished with Amber on the stand. The lawyers have presented their closing arguments, and now the fate of the two actors is in the hands of the jury.
Will Johnny win his $50 million claim, or will Amber win her $100 million counterclaim? Or will they both lose?
The trial began on 11 April 2022, lasting six weeks, and the world has witnessed mountains of testimony and evidence.
Public opinion is firmly behind Depp. One Twitter poll shows 63.9% believing Depp and a microscopic 1.5% supporting Heard; everyone else voted for "both sound awful." Not to mention that a glance on social media will show the hashtag #JusticeForJohnnyDepp consistently in the top spot.
Lawyers have weighed in on the case, mostly agreeing that Depp has more compelling evidence and a better legal team. However, experts acknowledge that a Depp victory will not be easy under US defamation law. Depp must prove all allegations are false, that Heard made them with actual malice (known to be false), and that the specific 2018 op-ed damaged his career. The same defamation rules apply to Heard's counterclaim for $100 million regarding the Depp-Waldman statements.
Although each party stated an amount they were claiming, the seven jurors can decide what amount of damages, if any, to award the winning party.
Here are the key facts and highlights from the jaw-dropping trial:
Key Facts:
Depp called many witnesses who confirmed they had never seen Amber with any alleged injuries. Heard's team argued that she always wore makeup to cover bruises.
Heard's team focused on Johnny's drug and alcohol use, saying that the substances turned him into an abusive "monster."
Many text messages were shown of Depp using vulgar language about Ms. Heard, including one where he said, "I will f**k her burnt corpse."
Depp's case was bolstered by numerous audio recordings of the couple, including a recording of Heard admitting to hitting Depp.
Heard presented the court with many photographs of her injuries, supposedly caused by Depp. However, the injuries appeared minor and were inconsistent with her accusations of vicious beatings.
An expert in computer forensics testified that many photos submitted by Heard had been saved through photo editing software. Critically, two images were shown to be identical, but someone changed the saturation to increase the redness of Heard's cheek on one.
Heard's credibility eroded further when testimony showed she never donated her $7 million divorce settlement to charity.
Depp's lawyers also presented images of injuries that Johnny sustained, including one where the tip of his finger was severed.
Each side had a psychologist assess Amber Heard, each with wildly different opinions. Depp's expert testified that Heard has personality disorders and exaggerated her abuse claims. In sharp contrast, Heard's psychologist claimed she had PTSD from the alleged abuse and had no personality disorders.
Surprise witnesses appeared at the last minute and gave bombshell testimony that exposed Heard as a liar. These included an eyewitness to an alleged fight and a TMZ reporter who claimed Heard leaked information to the press.
During a heated cross-examination, Heard accused many witnesses of lying on the stand, saying that many people "have come out of the woodwork" to support Depp because "he is a very powerful man."
In an emotional closing argument, Depp's attorney Ben Chew was brought to tears as he pleaded with the jury to give Mr. Depp "his name, his reputation, and his career back."
What the World is Saying...
The jury has begun their deliberations but won't work over the weekend or on Memorial Day Monday. They will return to court on Tuesday, and we will likely have a verdict sometime within the week. It's unclear whether Depp or Heard will return to the courtroom in person to hear the verdict.
Politics
The latest uncensored news and conservative opinions in US, UK, and global politics.
get the latest
Business
Real and uncensored business news from around the world.
get the latest
Finance
Alternative financial news with uncensored facts and unbiased opinions.
get the latest
Law
In-depth legal analysis of the latest trials and crime stories from around the world.
get the latest
Join the movement on social media...