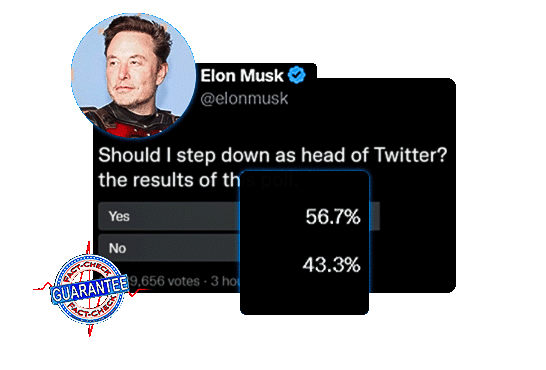 Elon Musk looks like he may be regretting ever asking the question ...
The new Twitter CEO, Elon Musk, asked his users a simple question: do they want him to remain in charge of Twitter?
The answer was shocking:
A large majority want Musk fired! Twitter users have already had enough of the new social media boss, and it's only been two months!
After over 13 million votes cast and just 4 hours left, a decent majority of the Twitter public voted "Yes" to the question, "Should I step down as head of Twitter?" Approximately 57% of Tweeters have had enough of the self-proclaimed "Chief Twit," compared to 43% who want the former richest man in the world to stay.
Elon Musk, who also leads the electric car company Tesla and private spacecraft manufacturer SpaceX, wrote on the poll that he "will abide by the results."
It looks like he's on the way out …
The chances of him clawing back the vote are all but impossible, with only hours left and down 14% means almost 2 million people would need to vote "No" for the result to flip.
It comes after Musk received harsh criticism for applying rules that would prevent users from mentioning rival social media companies in their Tweets. The move made many people label him a hypocrite for attacking free speech, something he is a staunch supporter of and talks about often.
In fact, according to Musk, the reason he acquired Twitter was for free speech:
"The reason I acquired Twitter is because it is important to the future of civilization to have a common digital town square, where a wide range of beliefs can be debated in a healthy manner, without resorting to violence."
Mr. Musk did acknowledge the mistake, though, tweeting, "My apologies. Won't happen again." However, after that message, he posted the poll asking if he should step down.
He appeared to instantly regret the decision:
Presumably, when he began to realize people were none too pleased with him, he issued a warning — "As the saying goes, be careful what you wish, as you might get it."
Unfortunately, his words fell on deaf ears, and the community told him to pack his bags.
As the saying goes, be careful what you wish, as you might get it

— Elon Musk (@elonmusk) December 18, 2022
Should I step down as head of Twitter? I will abide by the results of this poll.

— Elon Musk (@elonmusk) December 18, 2022
Going forward, there will be a vote for major policy changes. My apologies. Won't happen again.

— Elon Musk (@elonmusk) December 18, 2022
Those who want power are the ones who least deserve it

— Elon Musk (@elonmusk) December 19, 2022
Dear Twitter Advertisers pic.twitter.com/GMwHmInPAS

— Elon Musk (@elonmusk) October 27, 2022
Elvis is in the building https://t.co/dppDnK1WBt

— Elon Musk (@elonmusk) December 19, 2022
If you're going to keep doing stuff like this, yes. 🤮 pic.twitter.com/cZ76VRxROo

— MrBeast (@MrBeast) December 19, 2022
82% think Twitter is better since you took over.https://t.co/d8I7kWoGmu

— Michael Saylor⚡️ (@saylor) December 19, 2022
Going forward, there will be a vote for major policy changes. My apologies. Won't happen again.

— Elon Musk (@elonmusk) December 18, 2022
Should I step down as head of Twitter? I will abide by the results of this poll.

— Elon Musk (@elonmusk) December 18, 2022
I will resign as CEO as soon as I find someone foolish enough to take the job! After that, I will just run the software & servers teams.

— Elon Musk (@elonmusk) December 21, 2022