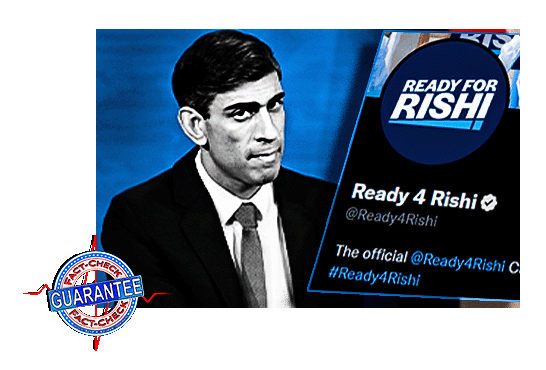 The battle of #Ready4Rishi vs #PM4PM vs #BringBackBoris ...
The fate of the United Kingdom came down to the battle of three hashtags and was decided swiftly whether the public was ready or not.
Was the UK ready for Rishi Sunak, or was it Penny Mordaunt for prime minister, and what about bringing back Boris Johnson?
The answer became apparent in the last 24 hours when #BringBackBoris came to a screeching halt as the prime minister from 48 days ago backed out of the race.
As the deadline to submit nomination papers approached on Monday, Mordaunt released a statement just one minute before saying she would support Sunak, leaving only one option — Britain will have its first prime minister of Indian descent. 
How it happened …
Despite strong support from fellow MPs, Boris Johnson released a statement Sunday night confirming he won't run because it would "not be the right thing to do" at this time.
However, the former PM made clear intentions about running in 2024, confidently saying, "I believe I am well placed to deliver a Conservative victory in 2024."
Johnson had reached out to Sunak and Mordaunt in an attempt to gather their support and "come together in the national interest," but neither was interested — both had their sights set on the top spot.
Former Chancellor Sunak took to Twitter to announce his intention to become prime minister and "fix" the economy. Rishi praised Boris, saying, "Boris Johnson delivered Brexit and the great vaccine roll-out," and hopes the former PM will continue to "contribute to public life."
After Johnson's withdrawal, Sunak's odds of becoming PM shot to 97%, according to OddsChecker, with bookmakers all but certainly predicting a #Ready4Rishi victory. The only other alternative, Penny Mordaunt, trailed at 10% with bookmakers.
But Twitter told a different story… 
When the #BringBackBoris hashtag died a quick death — Mordaunt's #PM4PM had approximately double the mentions compared to #Ready4Rishi. Then comparing the two social media movements over the last seven days, #Ready4Rishi's 1.9 thousand likes gets obliterated by Mordaunt's 67.4 thousand, suggesting that in a general election, the Conservative party would be wiser to pick Penny Mordaunt based on public opinion.
But why was Rishi Sunak the favorite?
The former chancellor was the frontrunner because the PM would not be chosen via a general election. For the second time, the Conservative party made the decision. Previously, in a race where Penny Mordaunt was eliminated earlier, Sunak was the close second to Liz Truss. However, this time Sunak scored an easy victory. 
Whether the public is ready for Rishi or not, Sunak is heading to No.10.
Key Facts: What happened to Liz Truss?
After a turbulent premiership filled with controversies, MPs forced Boris Johnson to resign.
Conservative party members elected the former foreign secretary Liz Truss as prime minister and party leader.
Rather than stabilizing politics, she destabilized the economy and financial markets with her proposed "mini" budget.
After 44 days, the UK's third female prime minister resigned, becoming the shortest-serving PM of all time.
The United Kingdom is a great country but we face a profound economic crisis.

That's why I am standing to be Leader of the Conservative Party and your next Prime Minister.

I want to fix our economy, unite our Party and deliver for our country. pic.twitter.com/BppG9CytAK

— Rishi Sunak (@RishiSunak) October 23, 2022
A huge sense of relief at the election of @RishiSunak as our new leader and next Prime Minister.

Rishi will unite our country with economic competence and restore trust in politics.#Ready4Rishi

— Liam Bones (@LiamBones) October 24, 2022
Certainly need a applaud - well done Rishi - not because your are British Asian because you kept your calm all the way, you represented well and can manage well. I know you would take Britain to new heights with dignity. #Ready4Rishi .@RishiSunak https://t.co/zlRXWkCABO

— 𝕍𝕚𝕤𝕙𝕒𝕝 𝔸𝕘𝕘𝕒𝕣𝕨𝕒𝕝 (@vishalagga) October 24, 2022
At last, man from Indian ethnicity took over! #Ready4Rishi @RishiSunak deserves it and I'm so curious about this plans for reviving UK's economy, let's see what will happen, still the trade deal is pending with India! #Ready4Rishi #RishiSunak #indian #britishpolitics #BritishPm

— Yashwanth kumar (@Yashwan62923592) October 24, 2022
If I wanted someone to lead us out of financial ruin, it would probably be the man that was in charge of the countries finances when we were plunged into it.

— Gareth Icke (@garethicke) October 24, 2022
Call me cynical, but I reckon all these #LiarJohnson supporters and ex-Truss and Johnson cabinet members are all #Ready4Rishi because they want a job, and nothing more. There's very little unity in the Tory party.#GeneralElectionNow

— Dave Robinson (@9bDave) October 24, 2022
वक़्त बड़ा बलवान भैया..🇮🇳🇮🇳

India regaining its lost glory

The One and Only Superpower Civilization of the World#rishi_sunak #RishiSunak #Ready4Rishi #ReadyForRishi #India #Diwali #NarendraModi pic.twitter.com/h2Rb7Nzrta

— Anirudh Garg (@anirudhgarg_) October 24, 2022
Boris Johnson resigned because like Truss he could no longer lead our country in times of crisis. The only one I trust for the job is @RishiSunak Rishi warned us about the dangers of Liz Truss' economic plan but many different listen. Our MPs need to support Rishi #Ready4Rishi

— Kai M. Suleman (@Kai_Suleman) October 20, 2022
#ToryLeadershipFarce #BorisorBust #Ready4Rishi #GeneralElectionN0W Penny Mordaunt Jacob Rees-Mogg Boris or Bust Boris Johnson BoJo Prime Minister At 42 Rishi Sunak is PM Rishi is PM Eat Out to Help Out The ERG Mark Francois British Indian Hindu PM Tunbridge Wells#SunakSnake https://t.co/9wN41VptWl pic.twitter.com/eQXo8BH5fr

— ⚡️ DR. H. LEKTER (Sir) ⚡️ (@Dr__H__Lekter) October 24, 2022
Prime Minister Sunak to the rescue ! #Ready4Rishi #cartoon by #stokoecartoons #ConservativeLeadershipContest pic.twitter.com/EFDgXV7muW

— Stokoe Cartoons (@mikestokoe) October 24, 2022
You and your cronies may be #Ready4Rishi but the Tory voters aren't https://t.co/VyMLqsurDi

— PETER.(((Benny)))..UKSF....SBS...BRITISH.🇬🇧🇺🇸 (@RealPeteBennett) October 24, 2022
What the World is Saying...
Politics
The latest uncensored news and conservative opinions in US, UK, and global politics.
get the latest
Business
Real and uncensored business news from around the world.
get the latest
Finance
Alternative financial news with uncensored facts and unbiased opinions.
get the latest
Law
In-depth legal analysis of the latest trials and crime stories from around the world.
get the latest
Join the movement on social media...