Donald J. Trump vs. State of New York
Trump addresses the nation after arrest
Donald Trump addressed the nation and hit back against the charges brought against him by the New York district attorney, Alvin Bragg.
The former president said he "never thought anything like this could happen in America."
"The only crime that I have committed is to fearlessly defend our nation from those who seek to destroy it," Trump said while speaking from Florida.
NEW YORK, United States — The "witch hunt" is finally reaching its crescendo as the radical Democrats look to take the kill shot on Donald Trump. It's all come down to the Democrat-controlled state of New York filing criminal charges against the former president for crimes he allegedly committed in 2016, the year he became the president of the United States.
What did Donald Trump do?
Theft? No. Rape? No. Murder? No!
He had an affair — and then paid for her silence — allegedly.
The background:
Adult film actress Stormy Daniels claimed to have had an affair with Donald Trump in 2006 when Trump was already married to former first lady Melania Trump.
In 2016 during the presidential campaign, it was reported that Trump's lawyer Michael Cohen negotiated a $130,000 payment to Daniels for a non-disclosure agreement. Cohen was later found guilty of eight criminal counts relating to the payment. He subsequently turned on the former president by implicating him as an alleged co-conspirator.
In an effort to have his three-year prison sentence reduced, Michael Cohen pled guilty in 2018 to paying Stormy Daniels hush money on behalf of Donald Trump.
The Manhattan district attorney's office subpoenaed the Trump Organization and its accounting firm for documents and tax returns related to the payments — subsequently, a grand jury was impaneled in January 2023.
Prosecutors indicated that Mr. Trump was likely to be indicted in March, and Trump himself predicted he would be arrested. Then on 30 March, the grand jury did vote to indict the former president.
The indictment is expected to relate to Trump's role in paying Stormy Daniels and will likely involve charges of campaign finance violations and obstruction of justice.
The 45th president of the United States is scheduled to be arraigned and appear in front of Justice Juan Merchan on 4 April in New York.
Follow the live coverage here:
A judge has ruled that Trump's next court battle, a civil battery case against author E Jean Carroll, will begin next week in New York.
Adult film actress Stormy Daniels speaks out in her first major interview since Donald Trump was indicted.
Trump pleads not guilty to the 34 felony counts, and the indictment is publicly unsealed.
Donald Trump enters the courtroom in Manhattan and does not address the media.
Trump arrives in New York ready for his arraignment hearing on Tuesday.
The Manhattan grand jury votes to indict Donald Trump for alleged hush money payments to Stormy Daniels.
The indictment accuses Donald Trump of making payments to the pornstar Stormy Daniels in return for her silence over their reported affair.

In 2016 it was reported that Trump's lawyer Michael Cohen negotiated a $130,000 payment to Daniels for a non-disclosure agreement.

The overseeing judge, Juan Merchan, previously presided over the conviction of the Trump Organization last year.

Trump has pled not guilty to all 34 counts.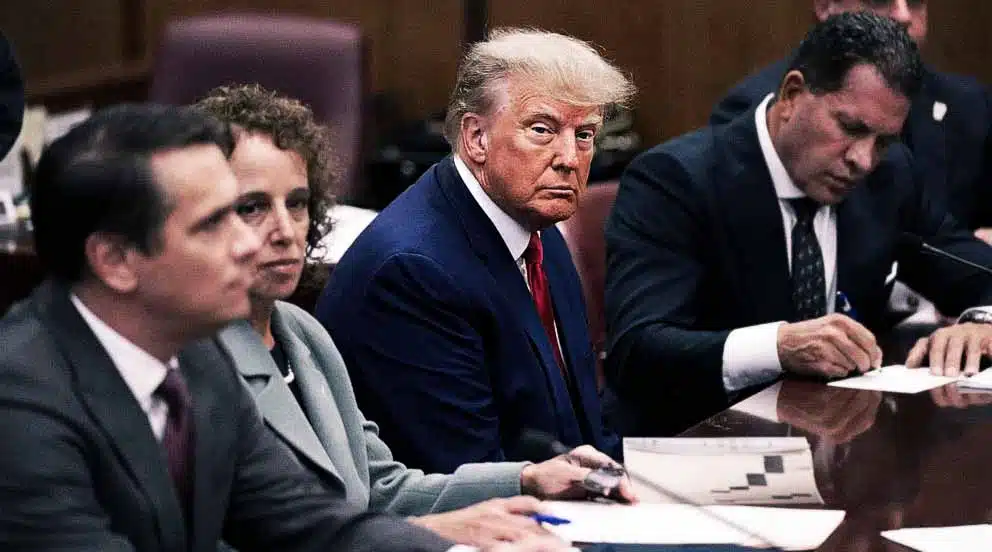 Legal experts have said that it is highly unlikely Donald Trump will face jail time for what is essentially a misdemeanor.
However, prosecutors will be looking to mold the facts of the case so that Trump faces felony charges, which could mean a sentence of up to four years in prison.
The prosecution led by the district attorney of Manhattan, Alvin Bragg, would have to prove that records were falsified with the intention of committing or concealing a crime.
While such a conviction carries a maximum sentence of four years, the most realistic outcome the prosecution can hope for is a monetary fine — providing the case doesn't get dismissed before it even gets off the ground.
Trump's attorney, Joe Tacopina, stated that they will "dissect" the indictment once it is publicly disclosed and anticipate making a motion to dismiss the charges.
"The team will look at every, every potential issue that we will be able to challenge, and we will challenge," said attorney Tacopina.
President Trump has strongly objected to the judge overseeing the case, stating that Justice Juan Merchan "hates" him.
Indeed, many have voiced their concern over the controversial choice of a judge who is no stranger to cases involving the former president and has a track record of ruling against him.
Justice Merchan will oversee Trump's arraignment trial but was previously the judge who presided over the prosecution and conviction of the Trump Organization last year.
Merchan even started his career in the Manhattan District attorney's office — the same office that is prosecuting Donald Trump.
The potential conflict of interest and bias is undoubtedly apparent but not surprising in the Democrat-controlled state of New York.
What the polls are saying
Now that Trump has announced his official bid for the 2024 presidency, Democrats are counting on this indictment or one of the other legal attacks to throw a wrench in his campaign.
Opponents of Trump will hope that this case will shatter his popularity and turn a swath of his supporters against him.
Yet, it's done the opposite:
A recent YouGov poll conducted after the indictment showed Trump surging to his largest-ever lead over Florida Gov. Ron DeSantis. In the previous survey conducted less than two weeks ago, Trump led DeSantis by eight percentage points.
In the latest poll, Trump is leading DeSantis by 26 percentage points!