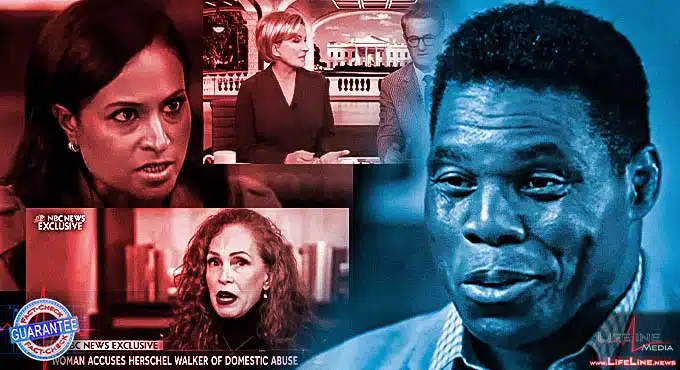 Thought experiment: Imagine the furious screams of racism from the left if the roles were reversed …
FACT-CHECK GUARANTEE (References): [Government websites: 1 source] [Straight from the source: 2 sources] 
| By Richard Ahern — The runoff election for Georgia's Senate seat is upon us, but we find ourselves asking, is the media desperate or just depraved in their treatment of GOP candidate Herschel Walker?
After a fierce campaign trail of personal attacks and scandal, the people of Georgia are getting ready to vote in the Senate runoff midterm election between Republican challenger Herschel Walker and Democrat Senator Raphael Warnock.
Under Georgia law, a candidate must obtain a majority of at least 50% of the vote to win outright in the first round; otherwise, a runoff election is scheduled between the top two candidates from round one.
On 8 November, the first round saw Senator Warnock grab 49.4% of the vote, narrowly ahead of Republican Walker with 48.5%, and 2.1% going to Libertarian Party candidate Chase Oliver. Because the race was so tight, the Libertarian candidate got enough votes to prevent Warnock and Walker from scoring a majority.
With the runoff approaching, the bitter rivalry only intensified with accusations of domestic violence, not paying child support, and paying a woman to have an abortion being thrown around.
Unfortunately, the media amplified every negative rumor surrounding Republican Walker. During interviews and debates, there was far more focus on smearing Walker's character, past relationships, and mental health rather than questioning his policies.
In an hour-long exclusive interview with NBC, the interviewer repeatedly questioned the former football player about the rumor he paid a woman to have an abortion. Walker reiterated that the accusation was not true, but NBC's Kristen Welker was somewhat obsessed with the issue, she then attempted to show Walker a "receipt" for the abortion and a random check that she thought proved he was lying.
Toxic interview: Herschel Walker's interview with NBC.
Walker even acknowledged that the check was one of his but that he's written many checks to this woman because they were in a relationship and had a child together. The check didn't prove anything but NBC ran with it and titled the entire exclusive interview on YouTube with "Yes, That's My Check."
The entire interview was painfully awkward, with a continuous focus on discrediting his character. Kristen Welker commented that Walker's son said he was a violent father. Then she stooped to targeting his past issues with mental health, implying that because he's recovered and not in treatment, he is at risk of relapsing.
MSNBC's "Morning Joe" took a shot at the Republican by airing Raphael Warnock's campaign ad, agreeing with it, and parroting that Herschel Walker "doesn't even understand what he's saying."
And then the death blow…
On 5 December, just a day before the runoff, NBC takes a final swing at Walker by interviewing a woman who suddenly comes out accusing him of domestic violence. The woman was reportedly in a five-year relationship with him and now needs to tell the American people about the Herschel she "knows" who allegedly attempted to punch her in 2005, but hit the wall instead.
Either the mainstream media are so fearful that a Republican will win Georgia's Senate seat, or they have set the morality bar at an all-time low (even for them). Because the way the media have targeted the former NFL running back in the run-up to the Senate election can only be likened to how they treated President Trump.
Either the media are suspecting a red victory in Georgia and are pulling out all the stops to save Democrat and incumbent Senator Raphael Warnock— or their "Trump derangement syndrome" has gotten so bad it's spilling over to all Republicans now.
Here's the kicker:
History is being made in Georgia this year because both Senate candidates are African-American, something you would expect liberals and the media to be ecstatic about. But, the truth is it's not really about race — it's only woke and progressive if they are black and Democrat.
Sit the media in front of a black person supporting conservative values; suddenly, they are color-blind! Imagine the uproar if the media attacked a black Democrat candidate in the same way.
We need YOUR help! We bring you the uncensored news for FREE, but we can only do this thanks to the support of loyal readers just like YOU! If you believe in free speech and enjoy real news, please consider supporting our mission by becoming a patron or by making a one-off donation here. 20% of ALL funds are donated to veterans!

This article is only possible thanks to our sponsors and patrons!
Politics
The latest uncensored news and conservative opinions in US, UK, and global politics.
get the latest
Business
Real and uncensored business news from around the world.
get the latest
Finance
Alternative financial news with uncensored facts and unbiased opinions.
get the latest
Law
In-depth legal analysis of the latest trials and crime stories from around the world.
get the latest
Join the movement on social media...