…that the MEDIA Doesn't Want You to Know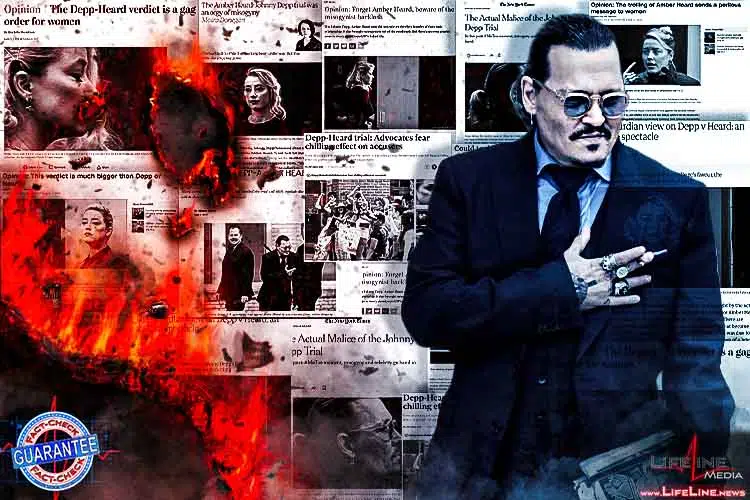 Into the History Books — How We Should Really Remember
Johnny Depp

v

Amber Heard
FACT-CHECK GUARANTEE (References): [Official court documents: 3 sources] [Academic journal/website: 1 source] [Government website: 1 source] [Straight from the source: 12 sources] [High authority and trusted website: 1 source]
The media has robbed YOU of the TRUTH, and MALE VICTIMS have LOST the opportunity to be heard.
| By Richard Ahern — I cannot sit back any longer and watch the mainstream media demonize this story and feed vomit-inducing garbage to the public. It's time to set the record straight!
I hear you saying…
Not another article about that stupid celebrity trial! Aren't there more important things going on in the world?
You're wrong.
Anyone who dismisses the Depp v Heard trial as trivial celebrity gossip doesn't get the point. The social implications of the entire story go far beyond Johnny Depp and Amber Heard.
Here's the problem:
Unfortunately, but unsurprisingly, the mainstream media have hijacked the narrative to portray the verdict as something negative for victims of domestic abuse. "Chilling" was a popular word thrown around on mainstream news sites, with an NBC writer saying the jury told survivors they "should never speak up against an abuser" — this was a common interpretation by the media.
"Whatever you think about the merits of the case," an op-ed in The Sun wrote, "it does not matter." The merits of a court case should matter, but many journalists conveniently whitewashed the facts and evidence.
Amber Heard was the "imperfect victim" was another common trope from the mainstream. A baffling concept used to excuse her abusive behavior towards Johnny Depp. Martha Gill for The Guardian said we must support imperfect victims and described them as "Those who were wearing the wrong thing, or were drunk, or were promiscuous, or loved their perpetrator, or had previously broken the law, or had lied before, or had a bad character…" — well, that went downhill fast.
The media has robbed you of an important lesson.
It's not about who was involved in the trial — it's the story and message behind it. The social, political, and legal repercussions of Depp v Heard will ripple through the decades — but only if we understand the true moral of the Johnny Depp Amber Heard story.
It was a turning point.
Depp v Heard was arguably the most-watched trial since the O.J. Simpson case in 1995. It's a rare moment when the general public takes an interest in the legal system; giving this case the power to change society.
If Amber Heard won, this would be about women and celebrating the courage of female survivors. But she lost — the jury ruled she was the evil-doer and punished her with punitive damages. Johnny Depp won — so this is about acknowledging men like him who are often forgotten — male domestic abuse survivors and the wrongly accused.
Depp vs Heard was a godsend, and it would be tragic if we turn a blind eye to the positive precedent it sets.
Let's fix the record, clean up the media's mess, and send this case into the history books the right way.
Shining the Spotlight on Male Victims
"Tell the world, Johnny! Tell them Johnny Depp, 'I Johnny Depp… a man… I'm a victim too of domestic violence!'"
He did, and we listened.
Johnny Depp vs Heard could be the landmark case of the century that finally shifts society's mindset toward male victims of domestic abuse.
Unfortunately, the mainstream media doesn't care about male victims.
The "tell the world Johnny" audio recording of Amber Heard saying that no one would believe him because he is a man is precisely the mentality most people had before this trial. The go-to argument is to dismiss male abuse victims because men are often bigger and stronger.
Johnny Depp asked, "Do you believe you abused me physically?"
"I was 115 pounds," Amber Heard responded after a long pause.
Yet, this 115-pound woman managed to sever a man's finger. Hopefully, this story has demonstrated that just because a woman is smaller doesn't make her harmless.
Put a weapon in a woman's hand, and the tables turn quick. In Australia, Amber Heard hurled a large vodka bottle at Depp, shattering on his hand, and severing the tip of his finger. The court also heard how Depp was hit in the face by a can of mineral spirits!
Women abusers level the playing field by using weapons and the element of surprise.
An interesting example is a criminal case that shook the United Kingdom in 2018. A female abuser pled guilty and was sentenced to seven years and six months for coercive control and two counts of causing grievous bodily harm with intent.
It was a shocking case because the abuse was unimaginably vicious.
Jordan Worth, 22, psychologically abused her boyfriend, Alex Skeel, by isolating him from his family, starving him, and taking over his social media accounts.
The physical abuse was far more harrowing:
She physically tortured Skeel for nine months until the police got involved. At this point, doctors said Skeel was ten days from death due to severe injuries and starvation.
The abuse started with Worth smashing her boyfriend over the head with glass bottles (sounds familiar) while he was sleeping. After that, she started using a hammer to inflict injury.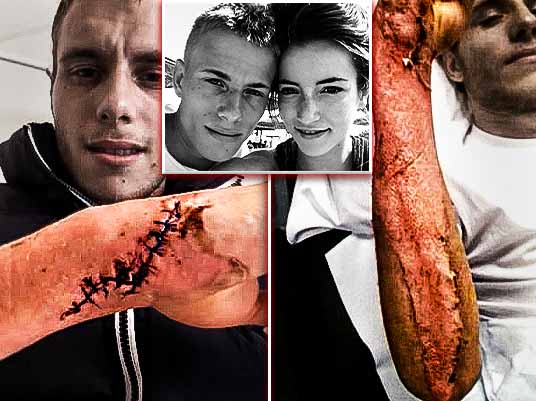 She eventually moved on to knives, where she would stab and slash him, almost hitting a major artery in his wrist on one occasion. Finally, she began to pour boiling water on him, causing third-degree burns.
For all this, Jordan Worth got a mere seven years and six months in prison. There was an appeal for a longer sentence, which was denied with the judge ruling the sentence was very lenient but not unduly so.
Do you think if a man had tortured a woman to near death, he would only get seven and a half years?
This evil abuser will be free to find her next victim in just three years.
This sickening case demonstrates the size advantage of men is easily overcome with weapons and the element of surprise. It also shows the UK legal system's inability to take male abuse survivors seriously.
Perhaps the glare of publicity on Johnny Depp v Heard will change society's view of male victims, so men like Alex Skeel get the justice they deserve.