Donald Trump faces legal attacks far more severe than New York's hush money indictment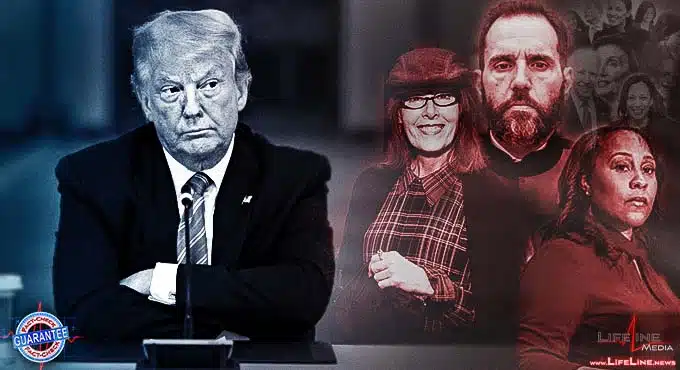 FACT-CHECK GUARANTEE (

References

): [

Academic website

: 1 source] [

Government websites

: 2 sources] [

Straight from the source

: 1 source] [

High authority and trusted website

: 1 source]
 | By Richard Ahern — Donald Trump faces legal attacks far more severe than the recent hush money indictment, and if convicted, hard prison time sits on the table.
Although the focus currently sits on New York's case against Donald Trump, the former president faces attacks in all directions as other legal issues loom. Since Mr. Trump announced his bid for the 2024 presidency, his opponents have decided to use the justice system as their weapon of choice against him.
The first indictment was in New York for a pathetically small alleged crime — paying a pornstar hush money in return for silence about their affair. Although this was the first major case, it is likely the least serious.
Here are the other "witch hunts" against the 45th president of the United States, Donald Trump:
Trump–Georgia Case: The Find Me More Votes Phone Call
The Fulton County District Attorney's Office is investigating Donald Trump's conduct following the 2020 election and a recorded phone call in which Trump urged Georgia Secretary of State Brad Raffensperger to "find 11,780 votes."
The investigation resulted in the formation of a grand jury that interviewed 75 witnesses and completed a report in January 2023.
In February, a judge ordered the release of a small portion of the report, claiming that no widespread fraud occurred in the Georgia 2020 election and suggesting that perjury may have been committed by witnesses who testified before the grand jury.
The grand jury recommended that the district attorney seeks "appropriate indictments" against those who attempted to overturn the 2020 Georgia presidential election, which could potentially include Donald Trump.
The investigators claim to have more recordings of Trump pressuring Georgia officials to overturn the election — including the phone call between the former president and Georgia secretary of state.
If Trump is indicted in Georgia, the prosecution could allege that Trump asking Georgia officials to "find" votes breaks Georgia's state law against "criminal solicitation to commit election fraud."
Could Trump be convicted?
If convicted of breaking Georgia's state law, a judge could impose a sentence of one to three years imprisonment.
However, putting aside the validity of the 2020 election, Donald Trump would have a strong defense by claiming that he legitimately believed there were 11,780 Trump votes that were not counted correctly.
Such a defense would make it impossible for the state to prove that the president willingly and knowingly interfered with the election.
Trump–New York: E. Jean Carroll Rape Allegations
A civil jury trial is set to begin on 25 April for one of two cases brought against Donald Trump by author E. Jean Carroll. The trial that will take place in New York will address the allegation from Carroll that Trump raped her in a New York department store in late 1995 or early 1996.
Carroll detailed the alleged incident in her 2019 man-bashing book "What Do We Need Men For?: A Modest Proposal," stating that Trump kissed her forcefully, pulled down her tights, and raped her in a Bergdorf Goodman department store's dressing room.
Carroll has changed her story:
Carroll initially referred to the incident as a "fight" rather than using the term "rape." She provided a photograph of herself with Trump from 1987, and two of her friends told New York magazine that Carroll had confided in them about the assault at the time. According to Carroll, the alleged incident lasted less than three minutes.
Here's what Trump says:
Trump categorically denies the accusations and has said, "I don't know this woman, have no idea who she is, other than it seems she got a picture of me many years ago, with her husband, shaking my hand on a reception line at a celebrity charity event."
After Trump's denial, Carroll filed a defamation lawsuit against the former president for calling her a liar and accusing her of fabricating the assault for personal gain. The defamation lawsuit was dismissed in 2021, but Carroll's appeal is pending.
Trump and Carroll are expected to testify before the New York court, but with a lack of physical evidence and an alleged event that occurred almost 30 years ago — the verdict will be purely based on who the jury believes.
Carroll's team will be able to use some of Trump's past remarks about women to bolster their case — something Trump's team strongly objected to.
E. Jean Carroll v. Donald Trump will be a civil trial, so the burden of proof will be lower for Carroll to prove her allegations — but the only punishment would be monetary damages.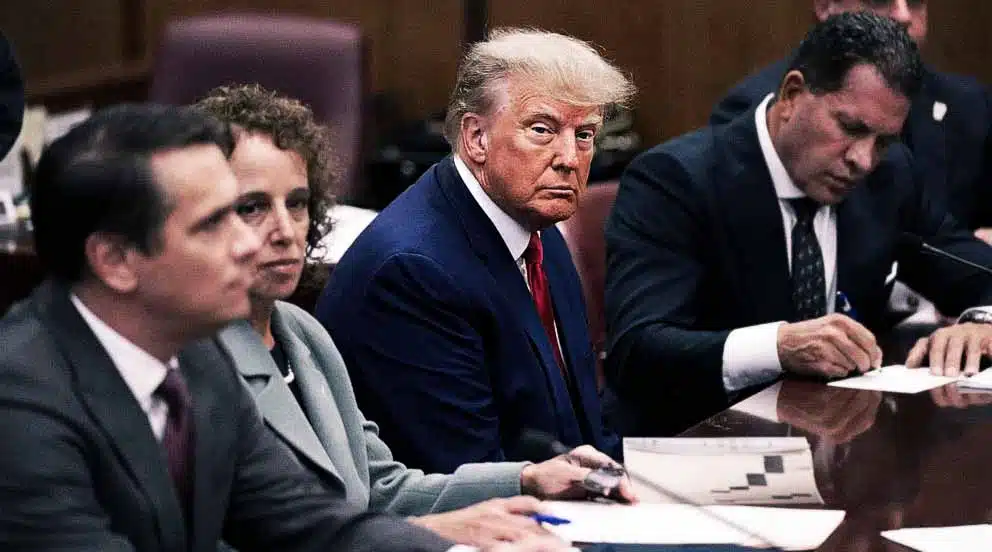 Trump–Washington: The Special Counsel for 6 January
A special counsel in Washington, D.C. is reviewing Donald Trump's conduct around the 2020 election and the events of 6 January 2021.
The special counsel, named Jack Smith, was appointed in November to oversee the Justice Department's criminal investigations into the former president. The allegations centered around interference with the lawful transfer of power following the 2020 presidential election and the certification of the vote held at the Capitol on 6 January 2021.
A federal judge ordered the former vice president, Mike Pence, to testify before a grand jury about any involvement Trump had in efforts to alter the 2020 election.
Meanwhile, on 4 April, a federal appeals court in Washington denied an appeal by Trump to prevent his chief of staff, Mark Meadows, and other top aides from testifying before the grand jury in Smith's investigation.
Smith is also the investigating force behind the infamous Mar-a-Lago FBI raid on 8 August 2022. Allegedly, Trump mishandled top-secret national defense information at his residence in Mar-a-Lago that should have been secured in the national archives.
Prosecutors claimed the documents were "likely concealed and removed" from Mar-a-Lago as part of an effort to "obstruct" the FBI's investigation.
Of course, as the president of the United States, Mr. Trump enjoys certain presidential privileges that should allow him to possess certain documents without consequence.
The current president, Joe Biden, has also been accused of mishandling documents while he was vice president — such privileges may not apply to the vice president.
Whether we see a prosecution against Joe Biden remains to be seen, but he should receive the same — if not more severe consequences than Donald Trump.
More Donald Trump Lawsuits
Being the former president of the United States and likely the Republican presidential candidate for 2024 means you have no shortage of people trying to take you down.
Along with the investigation led by Jack Smith, House Democrats, and two Capitol police officers have filed lawsuits accusing Trump of inciting a riot on 6 January.
Trump's lawyers have rightfully argued that as the president, Mr. Trump was protected from civil liability at the time, meaning you can't sue the current president for monetary damages.
The principle of absolute immunity protects government officials and judicial officers from frivolous lawsuits while performing their official duties.
Therefore, any civil case against Donald Trump relating to his actions during his time in office is likely a pointless endeavor.
Many ongoing lawsuits are targeted at the Trump Organization, including Trump and his children. Many will remember the same judge who oversaw the recent New York arraignment, Justice Juan Merchan, was previously the judge who presided over the prosecution and conviction of the Trump Organization last year.
One particular lawsuit targets Trump's signature TV show, The Celebrity Apprentice, where lead plaintiff Catherine McKoy alleges it was a multi-level marketing scheme.
Finally, it comes full circle…
A key person behind the recent Stormy Daniels case in New York and Trump's former lawyer, Michael Cohen, has sued Trump for $20 million in damages relating to his time spent in prison.
The Cohen case has been dismissed, but he has filed an appeal.
So, those are the many "witch hunts" against Donald Trump — the full list of lawsuits against Donald Trump can be found on Wikipedia.
Democrats will do whatever it takes to kill another Trump presidency — and it will be a bumpy road to 2024 — but as far as the public is concerned, these legal cases appear only to increase his popularity!
We need YOUR help! We bring you the uncensored news for FREE, but we can only do this thanks to the support of loyal readers just like YOU! If you believe in free speech and enjoy real news, please consider supporting our mission by becoming a patron or by making a one-off donation here. 20% of ALL funds are donated to veterans!

This article is only possible thanks to our sponsors and patrons!
Join the movement on social media...