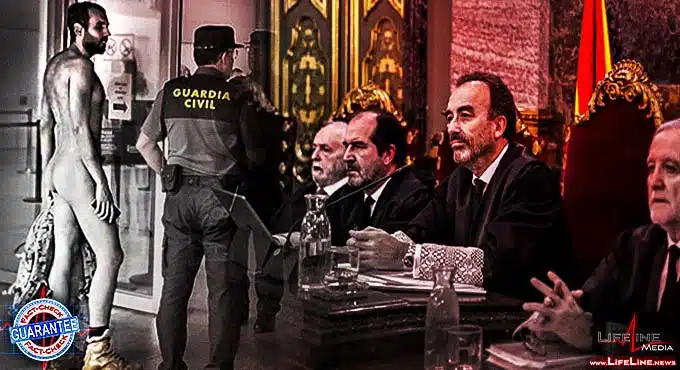 | By Richard Ahern — A Spanish high court has ruled in favor of a man's right to walk naked in the streets. The high court reversed the fines and struck down an appeal against a lower court decision that also ruled in the man's favor.
Alejandro Colomar, 29, was initially fined for walking naked in the streets of Aldaia in the region of Valencia. However, Spain does not have specific laws against nudity, and essentially it is classed as one of your rights. Public nudity was decriminalized in 1988, along with blasphemy — before then, Spaniards faced up to six months in prison for "offending modesty and good customs with acts of grave scandal."
Even so, there are exceptions in the current law, and some areas have implemented local laws to control nudity, but Aldaia is not one of them.
The exception that landed Alejandro Colomar in hot water was related to nudity that caused a "public disturbance" or disruption to "tranquility," which is against the law. If the nudity is obscene or implies sexual intent, that would qualify as a disturbance or a threat to the public.
Colomar argued against that, saying sexual intent was "nothing to do with" what he was doing, and therefore the fines breached his right to ideological freedom. When interviewed, he said he generally receives positive responses from the public when walking, or sometimes cycling, naked — except one time when he was threatened with a knife!
The high court agreed:
The court ruled that Colomar had not broken the law, stating that his nudity did not cause an "alteration of citizen security, tranquility or public order." In addition, the court noted that there are no local laws against nudity and that he "limited himself to remaining or circulating naked at different times in two different streets of Aldaia."
But here's the kicker:
Colomor decided it was a good idea to arrive at his trial for criminal nudity — naked — wearing just a pair of hiking boots. The court ordered him to put on clothes before he was allowed to enter the building.
On the whole, it was a victory for Colomor in one of the highest courts in the land and a win for nudists all over the country. Yet, despite the humorous aspect, some may be concerned about the precedent this ruling sets and the possibility of more predatory "nudists" feeling emboldened by the court's order.
The potential for harm, particularly to children, is unquestionable, and the fact that the high court acknowledged a "legal vacuum" in Spain around nudity is reason enough for the laws to be reviewed.
We need YOUR help! We bring you the uncensored news for FREE, but we can only do this thanks to the support of loyal readers just like YOU! If you believe in free speech and enjoy real news, please consider supporting our mission by becoming a patron or by making a one-off donation here. 20% of ALL funds are donated to veterans!

This article is only possible thanks to our sponsors and patrons!
Politics
The latest uncensored news and conservative opinions in US, UK, and global politics.
get the latest
Business
Real and uncensored business news from around the world.
get the latest
Finance
Alternative financial news with uncensored facts and unbiased opinions.
get the latest
Law
In-depth legal analysis of the latest trials and crime stories from around the world.
get the latest
Join the movement on social media...