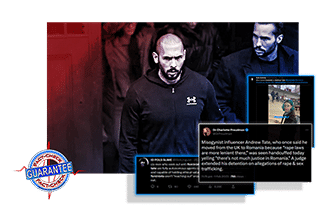 Romanian judge extended the social media star's detention based on no evidence — and admitted it!
Who was the most-googled man in 2022, beating Donald Trump and Vladimir Putin?
Here's a clue:
He has been banished from numerous social media platforms because his message is too "dangerous" for young men to hear, and he currently sits in a Romanian jail accused of human trafficking and rape.
Yes, that man is Andrew Tate, also known as the face next to the definition of "toxic masculinity" in the Snowflake English Dictionary.
In the world of social media influencers, Andrew Tate is king, with an estimated net worth of between $300 - $700 million. As a youngster, he was a world-champion kickboxer; but he made his first million running a successful webcam business, employing 75 women who raked in thousands of dollars each day "talking" to men online.
Tate used social media to style himself as a business guru, showcasing his immense wealth, ripped physique, gorgeous girlfriends, and an array of supercars.
Andrew Tate primarily appealed to young men, branding himself as ultra-manly and ultra-wealthy, and he sold his secrets to success through his business, Hustler's University. Of course, he drew criticism from liberals and feminists who labeled him a misogynist for his comments about women — things like men being the money earners and women belonging in the kitchen… you get the idea.
Indeed, some of his comments were extreme, but partly in jest to wind up the feminists — and no one did that better than Andrew Tate.
Unfortunately, in today's world, left-wing politics and the mainstream media have vilified young men. Extreme feminism has created a backlash of men desperately seeking someone who speaks on male issues and fights in their corner.
Tate fills that gaping hole for many.
Because of his polarizing nature in this polarized society, his popularity exploded across the internet, along with his wealth. Some websites list his net worth at around $300 million, others $700 million, and he has claimed he's worth almost $1 billion. Either way, he's wealthy enough to own over 30 supercars and a private army.
However, he attracted too much attention …
The walls began to close in on Mr. Tate in 2022 when the major social media companies de-platformed him — Facebook, Instagram, Twitter, TikTok, and YouTube booted him, erasing his millions of followers.
That was just the tip of the iceberg …
Angry Tweets from Feminists on Andrew Tate...
There are roughly 9 billion people in the world and Andrew Tate's content has been viewed 11.6 billion times. Tell me again that misogyny isn't normalised.

— Dr Charlotte Proudman (@DrProudman) January 22, 2023
Misogynist influencer Andrew Tate, who once said he moved from the UK to Romania because "rape laws are more lenient there," was seen handcuffed today yelling "there's not much justice in Romania." A judge extended his detention on allegations of rape & sex trafficking.

— Dr Charlotte Proudman (@DrProudman) February 1, 2023
why are all these Andrew Tate and Trump fans commenting & liking my Palm Springs tweet😅

wtf my dudes you seem confused. i'm not for you.
I'm a music fan account
incredibly feminist
super liberal
opinionated and old enough to take no shit
Andrew Tate is evil as is Trump

— Dandelion B.💙 music saves me (@Chaosandthecal1) January 31, 2023
If anyone thinks getting social media to ban Andrew Tate is victory, search "Feminism is Dead" / "Serve Men" / "Fuck Feminism"/"Women are Property"/ "Feminism is" or any similar or related searches on any social media and see what is still up and increasingly aimed at girls too.

— Anonymous (@YourAnonCentral) August 27, 2022
A violent man being investigated for rape and trafficking is being compared to gay MPs standing up for trans people in a supposed liberal outlet. Absolutely shameful.

— Dr Rohit K Dasgupta (@RKDasgupta) January 29, 2023
Sounds like he's in the right company!

Vermin hang with Vermin…#fuckTATE

Lock up all #loverboypimps

— BarbANomad_BLM (@BMFPerspective) January 24, 2023
hi men, unless you are actively dismantling an argument made by Andrew Tate…then hush.if you're crying "free speech", just say you hate women. u haven't done a good job at hiding it sir, yes. we been knew🫶🫶🫶🫶🫶

— olivia (@oliviuuuuhh) August 23, 2022
Ronda Rousey needs to fight Andrew Tate and show him what a woman can do @RondaRousey #hatemisogny #fucktate #fuckhimupsis #andrewminion #Dazwatches

— Aiyana (@AiyanaSmokes) August 20, 2022
if you claim to follow tate bc he preaches masculinity i can direct you to hundreds of other accounts that do the same thing without dehumanising women. if you still prefer tate, then we all know the real reason you support him. #fuckandrewtate #WomensRights #TopG

— lucyjane0702 (@lucyjane0702) January 31, 2023
I wonder how many of the people shouting misogynistic abuse at Jacinda Arden are fans of Andrew Tate?

— Dr Charlotte Proudman (@DrProudman) January 20, 2023
Motherfuckers who make memes about andrew tate that idolize him are fucking disgusting, you all need help imagine supporting someone who went into an investigation for human trafficking 🙄 #idontsupportandrew #fuckandrewtate

— 💛SCHIZZY🌙 (@Poptart__Magic) January 19, 2023
At the end of 2022, Tate and his brother were arrested by Romanian authorities for alleged human trafficking, organized crime, and rape — all charges they strongly deny. Critics of Tate all watched with joy as Romanian authorities seized his assets, including his trademark car collection.
It was looking bad …
On the surface, it looked like it was all over for the social media superstar, the media immediately branded him as guilty, making him out to be a convicted trafficker of underage girls.
The BBC falsely reported that Tate's online business school sells "courses in manipulating and exploiting women"! When reporting on the alleged sexual messages he sent to underage girls, the best they could show was "Romanian girl (strawberry emoji)."
Likewise, no media companies have provided hard evidence of serious crimes — instead, they feature cherry-picked ten-second video clips showcasing his apparent "misogyny."
Having said that, not in keeping with their fellow media companies, the New York Post broke a story reporting that two of the alleged victims had said the case was "built on lies" and that prosecutors were treating them as accusers despite them repeatedly saying they were "not victims."
It's beginning to add up …
Tate has vowed the case against him is "empty," and his brother, Tristan Tate, has repeated that there is "no evidence" against them. Familiar words from any person accused of a crime, guilty or innocent, but after 30 days in custody, Romanian authorities haven't pressed charges.
Indeed, it appears the case may be precisely what Tate claims — "empty" — because a Romanian judge extended his detention for another 30 days based on "a reasonable suspicion," and nothing more.
Secondly, the judge acknowledged that the facts presented by the prosecution were unclear. Compounded with reports from Tate's lawyers, who have complained that no evidence has been submitted to them.
The 30-day extension is to give the prosecution more time to find evidence of a crime — or continue their efforts to persuade women to be victims.
Romanian authorities can hold someone under "preventive arrest" for a maximum of 180 days before officially filing charges or releasing them. However, the courts clearly state that usually, preventive arrest should not exceed 30 days. So, with no charges filed, the case file must be light, if not "empty," and it could only be a matter of time before Andrew Tate walks free and feminists lose their minds.
Key Facts:
Andrew Tate, his brother, and two women were arrested on 29 December 2022 on suspicion of human trafficking and rape.
On 20 January 2023, the Romanian court extended the detention until 27 February 2023.
The Tate brothers have filed two appeals against the detention, but both times they have been denied.
No clear evidence of criminal activity has been presented to a judge or Tate's defense team.
No charges have been filed after over a month in jail.