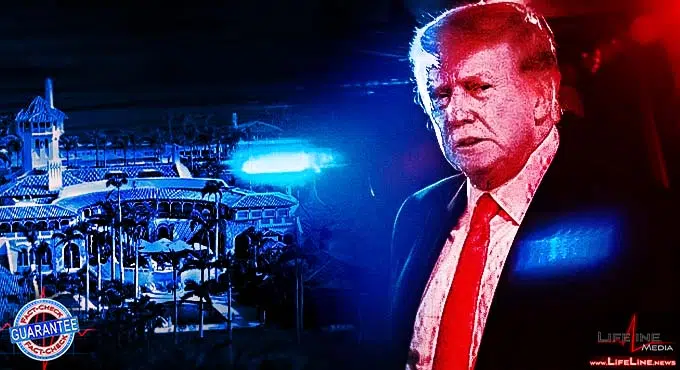 Comparing the Trump FBI raid with the Hunter Biden investigation uncovers unarguable corruption
| By Richard Ahern — After years of investigation, mountains of evidence, and corruption that bubbled straight to the top — it looked like the FBI was closing in on Hunter Biden.
So, what happened?
Donald Trump got raided.
On 8 August, Donald Trump's Florida Home, Mar-A-Lago, was "under siege, raided, and occupied by a large group of FBI agents." According to the
statement released by President Trump, the raid was unannounced despite the former president claiming full cooperation with authorities.
Subsequently, the FBI came under pressure from Republicans, and some Democrats, to justify using such a heavy-handed tactic on a former president. "Nothing like this has ever happened to a President of the United States before," Trump wrote – a wholly accurate statement; even President Nixon received a subpoena beforehand.
What do we know so far?
In response to the uproar, Attorney General Merrick Garland held a press conference on 11 August. Garland issued a short statement confirming that he "personally approved the decision to seek a search warrant in this matter." He also said a federal court approved the warrant, which determined there was enough probable cause to conduct a search.
The attorney general gave no further information on what the FBI was looking for but said a motion to unseal the search warrant to the public had been filed.
On Friday, that search warrant was unsealed:
The warrant issued by Judge Bruce Reinhart authorized the FBI to search all rooms used by President Trump in Mar-A-Lago where boxes or documents could be stored. The property to be seized was physical documents marked as classified, related to national defense, or Presidential Records. It also authorized the seizure of "Any evidence of the knowing alteration, destruction, or concealment of any government and/or Presidential Records, or of any documents with classification markings."
But, why now?
The raid comes as Democrats are growing increasingly anxious about Trump running in 2024, and the polls suggest he could score an easy victory. The fact that a former president has had his home raided unannounced by hoards of agents shows the entrenched power Democrats have over the FBI.
Juxtaposing this raid with the ongoing investigation of Hunter Biden certainly paints a clear picture.
Common sense would say that Hunter Biden would be the ideal candidate for an unannounced raid — an admitted drug addict whose abandoned laptop revealed the most corrupt and grotesque goings-on within the Biden family.
There have been multiple attempts to derail the Hunter Biden investigation:
In a letter sent to the Justice Department, Republican Senator Chuck Grassley claimed he had received multiple reports from "highly credible whistleblowers" within the FBI — all describing a concerted effort to suppress damaging information about Hunter Biden.
Republican Leader Kevin McCarthy has also said that Democrats have blocked around 100 requests for information about Biden family business dealings.
Even from the start, it appears the FBI was protecting the Biden family. In his upcoming book, computer repairman John Paul Mac Isaac claims an FBI agent threatened him, saying, "…nothing ever happens to people that don't talk about these things," just before walking out of the repair shop with the laptop.
Where's Hunter Biden right now?
On vacation! Shortly after the Trump raid, Hunter Biden joined his father on Air Force One for a family holiday in Kiawah Island, South Carolina.
Despite numerous messages on Hunter's laptop that point to "the big guy" being Joe Biden, neither Joe nor Hunter have been raided.
The Bidens seem unconcerned about the investigation of Hunter, which is moving at a snail's pace. Over three weeks ago, news outlets reported that the investigation was at a "critical juncture" as prosecutors were deciding whether to bring charges — we are still waiting.
According to an article from CNN, sources close to the matter suggested that Justice Department guidelines are to avoid bringing politically sensitive cases close to elections. With the mid-terms approaching in November, the Hunter Biden investigation could be side-lined until after.
We now have a vivid picture of who controls the Justice Department.
It appears the department decided to hold off on charging Hunter Biden because it's a politically sensitive issue that could affect the upcoming election. Yet, they have no problem raiding Donald Trump's home like he's a common criminal.
Of course, charging Hunter Biden would undoubtedly cast a negative light on President Joe Biden, the face of the Democratic party, causing blue voters to jump ship. Equally, performing a raid on Donald Trump, the face of the Republican party, could sway voters away from voting red.
The FBI does the latter, not the former.
The actions against Donald Trump and the inaction with Hunter Biden seals the deal — it confirms the FBI and Justice Department are in the pocket of Democrats.
"These are dark times for our Nation," Trump wrote, and unless you're a radical leftist — that's the bleak truth.
We need YOUR help! We bring you the uncensored news for FREE, but we can only do this thanks to the support of loyal readers just like YOU! If you believe in free speech and enjoy real news, please consider supporting our mission by becoming a patron or by making a one-off donation here. 20% of ALL funds are donated to veterans!

This article is only possible thanks to our sponsors and patrons!
[booster-extension-reaction]
Politics
The latest uncensored news and conservative opinions in US, UK, and global politics.
get the latest
Business
Real and uncensored business news from around the world.
get the latest
Finance
Alternative financial news with uncensored facts and unbiased opinions.
get the latest
Law
In-depth legal analysis of the latest trials and crime stories from around the world.
get the latest
Join the movement on social media...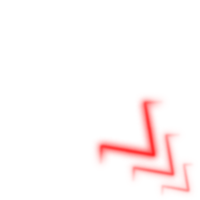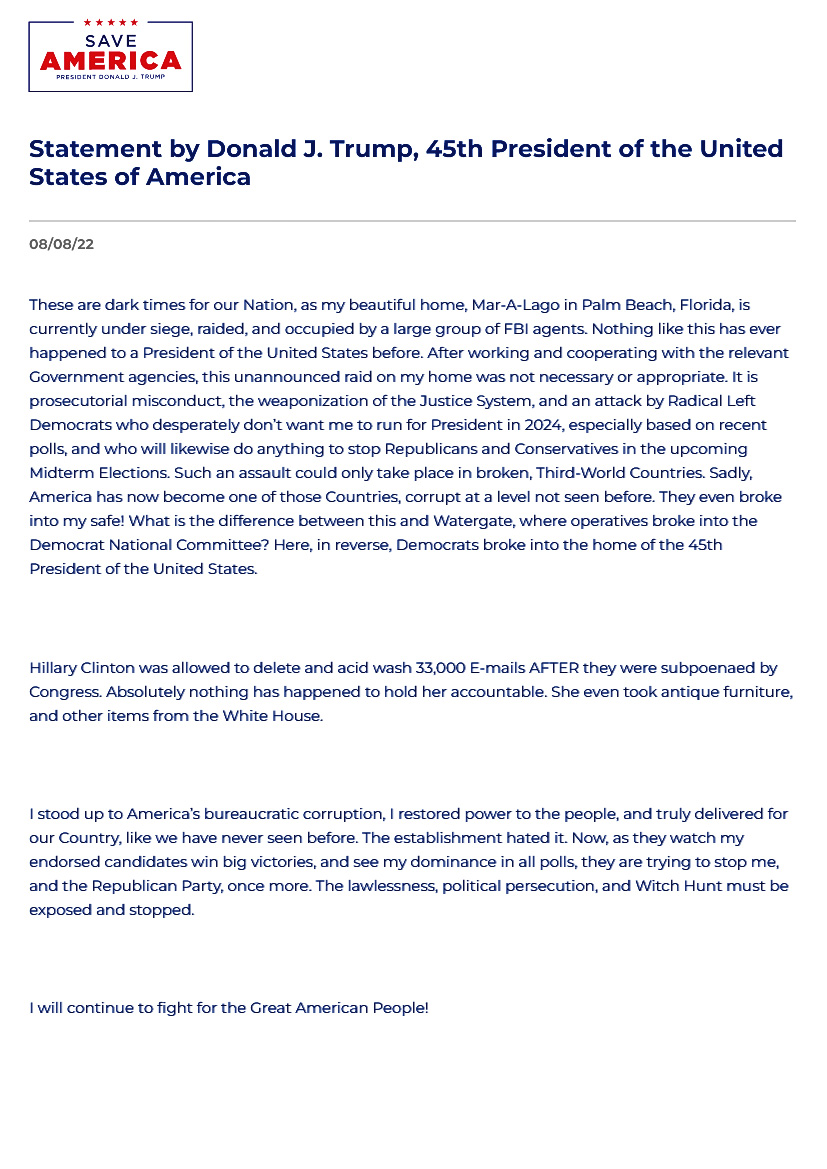 Straight from the source
Source link: https://www.donaldjtrump.com/news/news-gf6pdxrpau2342
© 2023 LifeLine Media Document Viewer