The disgraced Theranos CEO thinks these 5 arguments will keep her out of jail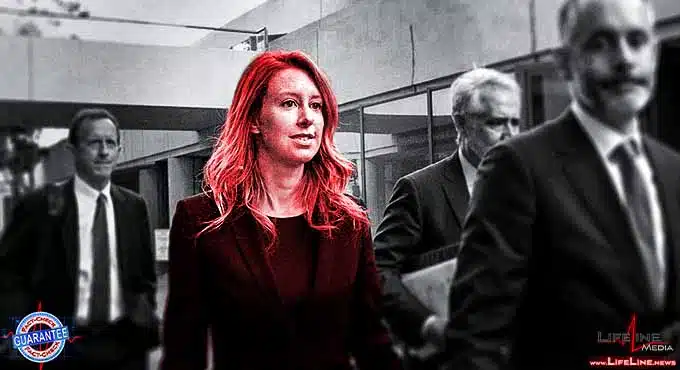 FACT-CHECK GUARANTEE (

References

): [

Official court documents

: 3 sources] [

Academic website

: 1 source]
 | By Richard Ahern — Elizabeth Holmes was days away from leaving her million-dollar mansion for a prison cell when at the last minute, she filed a last-ditch appeal to delay her sentence.
The lower court's order for Holmes to begin the 11-year jail term on 27 April has been overruled pending appeal. Hence, the founder of the fraudulent silicon valley blood testing company Theranos remains free.
Her lawyers cited "numerous, inexplicable errors" in the judge's ruling, arguing that the guilty verdict could be reversed and she should remain free pending appeal. Holmes's lawyers asserted that she met the requirements for release because she has "two very young children" and "is not likely to flee or pose a danger."
It all boils down to this:
The appellate court will determine whether she can remain free while the primary appeals process is underway. The judges will assess the merits of her appeal for a new trial and consider the likelihood of a different verdict.
---
Elizabeth Holmes Trial — Background Reading
---
Could Elizabeth Holmes win her appeal?
Holmes's legal team, led by Kevin Downey of Washington law firm Williams & Connolly, based their defense on the premise that Holmes could not have knowingly defrauded investors because she genuinely believed the blood testing technology worked.
An appeal can't challenge the jury's verdict directly but has to argue there were flaws in how the judge applied the law and conducted the trial. An appeal will focus on the judge's rulings and argue the jury was misinformed or misled, usually on what evidence they were allowed to see and how the court directed witness testimony.
Holmes's appeal consists of five key arguments:
1

Lay witness Dr. Das gave expert testimony
The appeal claimed that the government violated the Federal Rules of Evidence "to bolster its unscientific case."
Specifically, Holmes challenged testimony from the government's witness, Dr. Kingshuk Das, a former lab director at Theranos. Since Dr. Das worked at Theranos, he testified as a non-expert or "lay witness," in contrast to an expert witness who provides testimony relating to a specialized field they are educated, experienced, or qualified in, and would typically have no prior history with the defendant.
As a non-expert, Dr. Das could only give opinions without relying on scientific, technical, or specialized knowledge.
However, the appeal contends, "Das' opinions and related testimony, including his retrospective Patient Impact Analysis, were based on highly specialized knowledge." Holmes's lawyers argue this violates Rules 701 and 702 of the Federal Rules of Evidence.
2

The court limited the examination of Adam Rosendorff
The court is also accused of restricting Holmes's ability to cross-examine another former Theranos lab director, Adam Rosendorff, who strongly criticized the company's technology. The appeal suggests that Rosendorff may be biased because of his employment at three laboratories after leaving Theranos.
Reportedly, Rosendorff found himself in hot water when these labs also encountered testing errors during his tenure as lab director. The appeal posits that he may have been motivated to skew his testimony in favor of the government to shield himself from potential investigations involving these other labs.
Holmes's appeal contends that the court demonstrated prejudice by not permitting the defense to thoroughly examine the potential bias surrounding Rosendorff. Instead, the court allowed only "limited, limited" questioning related to Rosendorff's past employment history.
3

The court excluded testimony from Sunny Balwani
The appeal further criticizes the court for excluding prior testimony from Holmes's business partner, Sunny Balwani, which would have attributed responsibility for the false financial projections to him.
The document highlights that "at all relevant times…Balwani was President and Chief Operating Officer" of the company. It further asserts that Balwani's past statements indicate he "took sole leadership responsibility for Theranos' financial model."
The court deemed these statements "insufficiently inculpatory or trustworthy" and did not present them to the jury. The appeal contends that the court "abused its discretion" by excluding these statements from the jury's consideration.
4

Elizabeth Holmes's sentence was miscalculated
The judge is criticized for allegedly erring in the sentencing decision, using a lower standard of evidence to determine the money lost by investors and the number of victims. This resulted in a higher sentencing guideline of 135-168 months rather than 0-7 months.
The court determined the number of victims based on the "preponderance of the evidence" legal standard, meaning that an argument is accepted when it is more likely true than false. In terms of probability, if the court believed something was 51% to 49% more likely true than not, they would accept it as fact.
The appeal contends that the court should have used the "clear and convincing" burden of proof — a higher standard that requires roughly a 75% probability when accepted as fact. An allegation will be considered valid under this burden if it is substantially more likely true than false. Many people are familiar with the "beyond a reasonable doubt" standard, which is the jury's burden to convict someone in a criminal case and requires at least a 90% probability.
The appeal argues that the court should have employed the higher standard and, as a result, calculated fewer victims and lower financial losses for investors — ultimately, a much shorter sentence.
5

Letters of support for Elizabeth Holmes
Holmes cites "130 letters of support" requesting leniency from the court, with 30 reportedly written by Theranos employees and investors. One letter, penned by Democratic Senator Cory Booker, asks for a lenient sentence and describes Holmes as his "friend."
Accompanying the letters of support and the appeal is an amicus brief from the National Association of Criminal Defense Lawyers (NACDL), a nonprofit bar association, urging the court to "reverse the conviction and remand for a new trial."
The NACDL is an organization of defense lawyers committed to ensuring that accused individuals receive due process and are not unjustly penalized.
The NACDL's written brief concurs with Holmes's appeal, highlighting the numerous issues with the government's witnesses.
Although one judge deemed a conviction reversal unlikely, Holmes has many friends in high places and a lot of legal power behind her.
Holmes has support from the NACLD, a senator, her husband's wealthy family, and a legal team from a top law firm that has previously represented US presidents such as Barrack Obama, George Bush, and Bill Clinton.
We certainly won't see her acquitted soon, but the chances for a new trial seem plausible. She could even be a free woman for a while longer, but nothing stops a new jury from forming the same conclusion — guilty.
We need YOUR help! We bring you the uncensored news for FREE, but we can only do this thanks to the support of loyal readers just like YOU! If you believe in free speech and enjoy real news, please consider supporting our mission by becoming a patron or by making a one-off donation here. 20% of ALL funds are donated to veterans!

This article is only possible thanks to our sponsors and patrons!