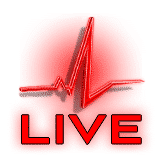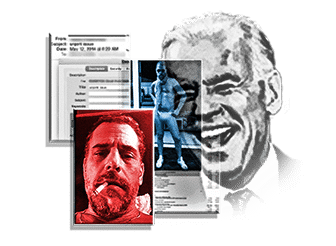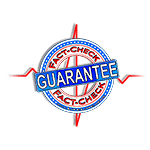 DELAWARE, United States — A story once dismissed as fake news but now impossible to ignore. When the New York Times admitted the infamous Hunter Biden laptop story was real, the future of the Biden family hung in the balance.
The background:
Joe Biden's son, Hunter Biden, dropped off three broken laptops at a Delaware repair shop but never returned to pick them up. The shop owner, John Paul Mac Isaac, found numerous disturbing financial statements, emails, and photographs while performing data recovery.
In a nutshell:
The emails and financial statements implicated Joe Biden in foreign business dealings while he was the vice president of the United States. At the same time, concerns were raised about the sexually explicit photographs of Hunter Biden involving young women.
Isaac reported his discovery to the authorities, and the FBI seized the laptops. However, before the seizure, Isaac had copied the contents of a hard drive and sent it to Trump's personal attorney, Rudy Giuliani, who then sent it to the New York Post.
The story was published weeks before the 2020 election. Still, it was strongly dismissed by mainstream media outlets, big tech, and intelligence officials — who falsely claimed the story was Russian disinformation to protect Biden's election prospects.
In 2022, forensic analysis suggested the emails were authentic and that there was no evidence hackers had manipulated the emails or files.
Now that Joe Biden is the leader of the free world and the laptop story is authentic, the most critical question is this:
Is the president of the United States compromised?
So far, one of the more perturbing facts that indicated a national security concern is an audio recording found on the laptop where Hunter Biden talks about his relationship with Patrick Ho, who he referred to as "the f****** spy chief of China."
The investigation continues to move at a snail's pace, and the likelihood of charges being brought against Hunter Biden seems low after more information emerges about a biased Justice Department. Multiple reports from whistleblowers have claimed there is a concerted effort within the FBI to protect Hunter Biden. It got more concerning when on 8 August 2022, President Donald Trump's Florida home, Mar-A-Lago, got raided by a large group of FBI agents. Comparing how authorities treat a former president to how they treat Hunter Biden paints a clear picture of corruption.
In a similar vein, U.S. District Court Judge Rudolph Contreras ruled that Hunter Biden's privacy is more important than the public interest in the illegal handling of a firearm by the President's son. Judge Contreras, a federal judge appointed by President Obama, quashed the Freedom of Information Act lawsuit in favor of privacy for Hunter Biden.
House Democrats remain committed to protecting the Biden family. On Tuesday, 20 September, the House Oversight Committee rejected a GOP-backed effort to seek documents relating to Biden family business dealings and Hunter Biden. 23 Democrats voted against the resolution compared to 19 Republicans who called for it.
In late August, Meta CEO Mark Zuckerberg appeared on Joe Rogan's podcast and admitted that Facebook suppressed stories relating to Hunter Biden's laptop after warnings from the FBI. In the episode, Zuckerberg said that the FBI contacted Facebook ahead of the 2020 presidential election and warned them of polarizing content; the company subsequently limited how often the story appeared in the news feed.
But that's only half the story …
In December, new Twitter CEO Elon Musk leaked the bombshell "Twitter files" that reported how the social media company worked with the Biden campaign to kill the laptop story. To make matters worse for the Biden family, House Republicans won the majority in the midterm elections, meaning Hunter will face a renewed investigation from Congress.
The files published to Twitter on 2 December 2022 stated: "Twitter took extraordinary steps to suppress the story, removing links and posting warnings that it may be 'unsafe.' They even blocked its transmission via direct message, a tool hitherto reserved for extreme cases, e.g. child pornography."
Follow the story live…
08 February 2023 | 10:00 am EST — Former Twitter staff called to testify before the House Oversight Committee to provide answers on the company's intentional suppression of the Hunter Biden laptop story.
13 January 2023 | 08:00 pm EST — Investigation launched after aides to Joe Biden found classified documents in his old offices and home. Further concerns were raised after the suggestion that Hunter Biden may have had access to them.
21 December 2022 | 04:00 pm EST — Hunter Biden hires seasoned Washington lawyer Abbe Lowell and former lawyer for Jared Kushner "to help advise" and "address the challenges" he is facing.
02 December 2022 | 06:30 pm EST — The "Twitter files" are published, reporting how "Twitter took extraordinary steps to suppress the story" and received $3.5 million from the FBI to handle requests.
08 November 2022 | 12:00 pm EST — Republicans win back the House in the midterm elections, giving them more power to investigate Hunter Biden.
06 October 2022 | 04:00 pm EDT — Federal agents finally report that they have enough evidence to charge Hunter Biden with tax crimes and for making a false statement related to a gun purchase.
12 September 2022 | 08:00 pm EDT — A reporter on CNN claimed people close to Hunter Biden suspect "there's a second laptop out there" that could easily be traced back to the President's son.
29 August 2022 | 09:00 pm EDT — FBI Assistant Special Agent in Charge Timothy Thibault resigned and was escorted out of the FBI building on Friday. Thibault has been accused of obstructing the Hunter Biden investigation and hit the headlines after Sen. Chuck Grassley accused the FBI of corruption.
08 August 2022 | 06:00 am EDT — Donald Trump's Florida home gets raided by the FBI, causing outrage that nothing similar has happened to Hunter Biden. Around the same time, Hunter Biden is seen on vacation with his father, Joe Biden.
20 July 2022 | 06:45 pm EDT — The probe reaches a "critical stage" as federal investigators decide whether to charge Hunter Biden with tax and foreign lobbying violations.
18 July 2022 | 06:30 am EDT — Records show that Hunter Biden still holds a 10% stake in a Chinese firm, despite his lawyers claiming he had sold his stake. The Chinese business records still list Skaneateles, LLC, founded by Hunter Biden, as a 10% owner.
01 July 2022 | 10:27 pm EDT — House Republican Leader Kevin McCarthy says Democrats have blocked around 100 requests for information on Biden family schemes. If Republicans take the House in November, McCarthy said, "A Republican majority will be committed to uncovering the facts the Democrats, Big Tech and the legacy media have suppressed."
06 June 2022 | 08:57 am EDT — According to an exclusive report from news website Radar, over "30 GB of never-before-seen data" from Hunter Biden's iPhone has been leaked. The data obtained from a phone backup on the abandoned laptop is allegedly being sold in parts to different press outlets. The leak includes photos that are "far more scandalous than anything that has come out before," the source reported.
01 June 2022 | 08:46 am EDT — The Daily Mail published an exclusive article revealing more shameful content found on the abandoned laptop. Videos on the hard drive showed that Hunter Biden filmed homemade porn of himself having sex with prostitutes — he then uploaded it to Pornhub. Accompanied by reports of browser history showing Hunter visited around 100 porn websites. It gets even more insane because search history shows an obsession with "lonely widow porn" and "MILF crack cocaine porn."
24 May 2022 | 10:30 am EDT — The Washington Examiner publishes findings of a forensic analysis confirming the contents of Hunter Biden's hard drive are "indisputably authentic," and there is no evidence of manipulation.
18 May 2022 | 1:30 am EDT — Former Trump aide Garrett Ziegler shares over 120,000 emails from Hunter Biden's laptop. The emails were published to a database belonging to a research group called Marco Polo, which specializes in "exposing corruption and blackmail."
08 May 2022 | 11:47 pm EDT — Top Hollywood lawyer Kevin Morris lends a hand to Hunter Biden by reportedly paying over $2 million of his overdue taxes.
06 May 2022 | 4:56 pm EDT — John Paul Mac Isaac, the laptop repairman, publishes an excerpt from his upcoming book saying that Hunter Biden told him the password to the laptop was "analf**k69". Isaac recalls the files he witnessed on the computer, including naked selfies and a picture of the president's son wearing a red scarf and a jockstrap.
12 April 2022 | 3:24 pm EDT — The Washington Post publishes comments made by Isaac suggesting that there have been many attempts to fabricate material said to be on the laptop that he never witnessed during the recovery process.
17 March 2022 | 10:15 am EDT — The New York Times publishes a story about the federal investigation of Hunter Biden's taxes. Buried in the article is an admission that the infamous laptop was real.
Hunter Biden sat on the board of the Ukrainian energy company, Burisma and had other business dealings in China.
The Justice Department is investigating Hunter Biden's foreign business dealings concerning his taxes.
Alleged emails from the laptop suggest that Joe Biden was receiving kickbacks from Hunter's business dealings, citing money held for "the Big Guy."
Alongside the email, a text message has been found from a business associate of Hunter Biden who also talked about "the Big Guy" — raising more suspicions the nickname belongs to President Joe Biden.
Records reveal that Vice President Joe Biden met with two Chinese businessmen (with ties to Hunter Biden) at the White House in 2014. This is one of 15 occasions that Joe Biden met with businessmen linked to Hunter.
Mainstream media and Big Tech previously dismissed the laptop story as fake news and Russian disinformation.
The suppression of the story by the mainstream could have affected the 2020 election. For example, some voters indicate they would not have voted for Joe Biden had they known the story was legitimate.
With control of the House, Republicans have opened their long-awaited "Biden family investigation" to determine if Biden's business dealings pose a "national security threat."
Hunter Biden Laptop Photos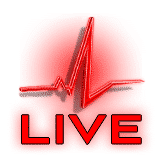 Live image feed
&copy 2023 LifeLine Media Image Feed
Conservative sources are pleased to see the story finally getting the necessary attention. In sharp contrast to the left, they claim that Hunter Biden was given positions on foreign company boards solely for his connection to the then Vice President Biden. Consequently, this suggests that President Biden is compromised by foreign entities.
To the same degree, analysts on the right are concerned that the then Vice President Biden benefited financially from Hunter Biden's dealings, citing the infamous reference to a cut for the "big guy."
Elon Musk mocked Hunter Biden with a tweet about the leaked photos. The tweet featured a meme saying, "Hunter Biden every time he buys crack and hookers," above a picture of a man wearing a helmet with eight GoPro cameras.
In a letter sent to the Justice Department, Republican Senator Chuck Grassley claims his office has received numerous communications from "highly credible whistleblowers" within the FBI. These current and former government employees allege there has been an effort within the organization to suppress negative information about Hunter Biden and portray it as disinformation.
Excerpts obtained from his upcoming book claim computer repairman John Paul Mac Isaac was threatened by an FBI agent, who said, "…nothing ever happens to people that don't talk about these things," just before walking out of the repair shop with the laptop.
GOP Congress Rep. Jim Jordan put Facebook on notice in a letter to Mark Zuckerberg. Jordan demanded the company provide more information on how it suppressed the Hunter Biden laptop story after receiving warnings from the FBI. The letter dated September 1, 2022, asked for "information about Facebook's actions to interfere in free and fair election-related public discourse."
Mainstream media outlets are in damage control mode, trying to downplay the fact that the laptop's content was genuine. The left focuses on the federal investigation of Hunter Biden, saying there is no connection to President Biden, pointing out that Hunter does not work for the United States government.
The left has made unproven claims that emails from Hunter Biden's laptop, published by research group Marco Polo, contain signs of "tampering."
Damage control — ABC news interviews Hunter Biden's ex-wife Kathleen Buhle about her new book "If We Break," which details her marriage to Hunter. The interview attempted to put Hunter Biden in a positive light, with her saying the pictures leaked from the laptop did not represent the man she knew. Buhle also described a warm relationship with Joe Biden, describing him as a loving grandfather to her children. The focus on the interview (and upcoming book) by the left-wing media appears to be an attempt to distract from the scandal facing the Biden family.
Too big to ignore — CNN releases a report on the federal investigation of Hunter Biden, saying we are at a "critical juncture" as investigators decide whether to bring charges against President Biden's son. 
The report claims prosecutors have narrowed their focus to tax and gun-related charges but that the Justice Department may be reluctant to pursue the politically sensitive case so close to the midterm elections.
With the House Oversight Committee turning up the heat on Hunter Biden, CNN host Don Lemon went on an unscripted tirade after Rep. James Comer called the New York Post a "credible outlet." Lemon delayed the commercial break to express his disagreement and disbelief, saying, "I can't believe that we're here." Notwithstanding, the New York Post's story on Hunter Biden was entirely accurate.
Politics
The latest uncensored news and conservative opinions in US, UK, and global politics.
get the latest
Business
Real and uncensored business news from around the world.
get the latest
Finance
Alternative financial news with uncensored facts and unbiased opinions.
get the latest
Law
In-depth legal analysis of the latest trials and crime stories from around the world.
get the latest
Join the movement on social media...