Brian Laundrie: 5 ALTERNATIVE (and Bizarre) Theories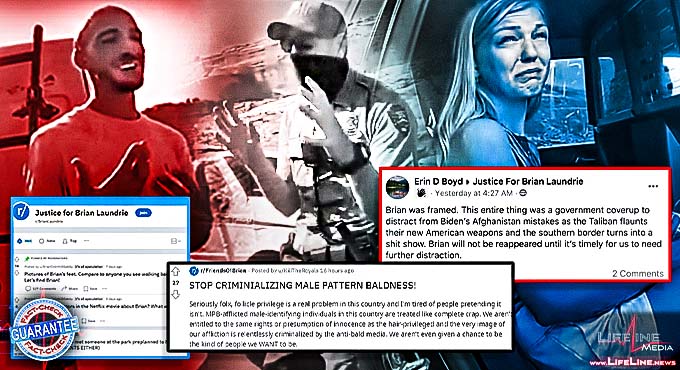 FACT-CHECK GUARANTEE (References): [Straight from the source: 3 sources] [Government website: 1 source]
30 September 2021 | By Richard Ahern – When "Van Life" vlogger Gabby Petito was reported missing on September 11, 2021, fingers were quickly pointed at her fiancé Brian Laundrie, who had returned home without her.
Subsequently, after Laundrie returned home, he then disappeared with his parents saying they hadn't seen him for a number of days, this was around September 18th. At this point, Laundrie had been named a person of interest in Petito's disappearance.
Tragic news…
On September 19th, an FBI statement said that remains were found near Grand Teton National Park in Wyoming, near where the couple's van had been last spotted. A coroner confirmed the remains found were Gabby Petito, cause of death ruled as a homicide.
An arrest warrant was issued for Brian Laundrie for the unauthorized use of a debit card during the time Petito went missing. As far as the homicide, he is only named a person of interest.
Although a majority of people seem to be convinced that Brian Laundrie is responsible and has gone on the run, users on sites like Reddit and Facebook have other theories.
Here are some of the more interesting theories to wrap your brain around:
1) Brian is being criminalized because he is bald
One user on Reddit posted in the subreddit titled r/FriendsofBrian, that Brian is being presumed guilty because he is bald. The user said that "follicle privilege is a real problem" and bald men aren't given the same "presumption of innocence as the hair-privileged".
He went on to say that the prejudice against bald men is a systemic issue and his "heart bleeds for Brian" because he is Brian, as are all bald men. Personally, he claims that people assume he is going to hit his wife because he is resentful of being bald.
The user made an interesting comparison saying that if a "follicle-endowed" man had been caught red-handed at a crime scene, people would make excuses for him by saying "Look how pretty his hair is".
He ended his rather long-winded post saying that "Bald men are peaceful"!
The full post is pictured below.
Other users seemed intent on focussing on Brian's appearance as to why he's being presumed as guilty, "One has to wonder if there is body shaming at play here", the post read.
2) Brian Laundrie was framed by Biden
One Facebook user, who posted to the Facebook group "Justice For Brian Laundrie" said that the "entire thing was a government cover-up to distract from Biden's Afghanistan mistakes as the Taliban flaunt their new American weapons and the southern border turns into a s**t show".
The user went on to say that Brian will not reappear until it is "timely for us to need further distraction".
They made it clear that they believe "Brian is innocent" and that "Gabby had issues".
The user's Facebook posts are pictured below.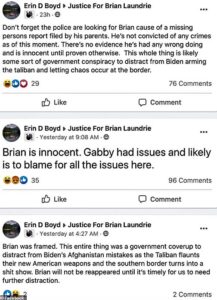 3) Brian was the real victim
One of the more grounded theories was that Brian was the innocent party and that "he was a victim of physical violence at the hands of Gabby".
"The violence he experienced was so bad that he had to call the police for help in one instance", they explained.
This was based on some truth as the couple was stopped by the police on August 12 for disorderly conduct when someone called 911 when they saw the couple fighting. However, the witness said that it was Brian who had struck Gabby.
That's just part of the story…
Bodycam footage that emerged from that day showed that police were close to arresting Gabby for domestic violence. The footage showed Brian showing cops scratches she gave him and Gabby admitting that she was the aggressor.
Police decided not to arrest her when they asked if she intended to cause him harm, to which she replied "No".
The police at the scene believed that Brian was the victim, they even booked him a hotel room to spend the night away from Gabby.
It's unclear if the police had all the information concerning the 911 call.
4) Brian was in witness protection
Some internet sleuths were sharing photos of what they believed to be Brian at a climate protest in Germany. Others said he was hiding in Mexico.
An interesting theory appeared claiming that Brian was moved to these locations as part of federal witness protection and his disappearance was purposely staged to protect him.
One Reddit user posted that "Brian Laundrie is an American hero who testified to the FBI about years of abuse by Gabby and her transphobic father. The feds are not actively looking for Brian. This is all part of a carefully orchestrated plan to protect Brian from further attacks while the FBI build their case".
Despite being a very bizarre theory, we'll continue to keep an open mind!
5) Brian is on a revenge mission to track down the real killer
Another theory claimed that Brian was on a revenge mission and was attempting to track down Gabby's real killer.
Police and FBI obtained a search warrant for Brian's home, where he lived with his parents and Gabby.
Footage showed authorities storming the house searching for evidence, they obtained hard drives and towed away his silver Ford mustang.
So far it appears that little evidence has been found that implicates Brian Laundrie in the homicide considering he is still named as simply a person of interest.
The Search for Brian has come up empty
The Laundrie family said that the last time they heard from Brian was when he went for a hike in the Carlton Reserve in Sarasota County. Authorities have extensively searched the reserve, but there has been no sign of Brian.
A rancher familiar with the area believes that Laundrie would not have survived long in the reserve as a majority of the area is alligator-infested water.
It's also been reported that Duan "Dog the Bounty Hunter" Chapman has joined the search for Laundrie. Footage showed him knocking on the door of the Laundrie residence, no one answered and the mother of Brian Laundrie called the police.
Chapman reports that thousands of leads have poured in from his fans and he claims to have found the campsite where Brian was staying after he returned home alone from his cross-country trip with Gabby.
Recent Development:
Some online investigators believe that the last two Instagram posts from Gabby were not from her because the photos were weeks old and didn't have the usual location tag she always used. This could alter the timline of when Gabby was killed.
In a recent press conference, Gabby Petito's family urged Brian Laundrie to turn himself in and help with the investigation.
So far, no sign of Brian Laundrie and what happened to Gabby Petito remains an elusive mystery.
We need YOUR help! We bring you the uncensored news for FREE, but we can only do this thanks to the support of loyal readers just like YOU! If you believe in free speech and enjoy real news, please consider supporting our mission by becoming a patron or by making a one-off donation here. 20% of ALL funds are donated to veterans!

This article is only possible thanks to our sponsors and patrons!

---
Man SHOOTS Pharmacist Brother For Administering Covid VACCINES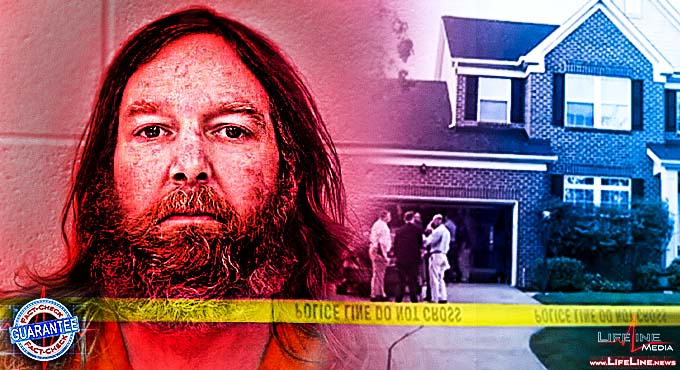 FACT-CHECK GUARANTEE (References): [Official court documents: 1 source]
08 October 2021 | By Richard Ahern – A man has killed his pharmacist brother because he was "killing people with the Covid shot"!
Jeffrey Burnham, 46, of Maryland has been arrested for the killing of his brother, his sister-in-law, and an elderly woman.
It's believed that Burnham first stabbed the elderly woman, 83, who was an old classmate of his mother, before stealing her car and driving to his brother's house.
Once arriving at his brother's house, he fatally shot his brother Brian Robinette, 58, and his wife Kelly Sue Robinette, 57. He then left the crime scene in his brother's corvette.
This is crazy:
After completing his killing spree, he reportedly stopped at someone's home to ask for gas. He knocked on their door and told the person that they would see him on TV and that his brother was "killing people with the Covid shot". That person called the police immediately after.
Burnham was arrested in West Virginia and confessed to killing three people. Court documents show he's already been charged with one count of murder and vehicle theft with more murder charges to follow.
Prosecutors said that Burnham had previously told his mother that he wanted to confront his pharmacist brother about how the government was poisoning people with Covid vaccines. Burnham also believed his brother was in on it, repeatedly saying, "Brian knows something".
Burnham's mother had called the police saying she was worried about his mental stability.
At the end of the day…
No matter how you feel about vaccines and the government, killing pharmacists is never a good form of protest.
We need YOUR help! We bring you the uncensored news for FREE, but we can only do this thanks to the support of loyal readers just like YOU! If you believe in free speech and enjoy real news, please consider supporting our mission by becoming a patron or by making a one-off donation here. 20% of ALL funds are donated to veterans!

This article is only possible thanks to our sponsors and patrons!

---
Train Riders Held Up PHONES and RECORDED Woman Being RAPED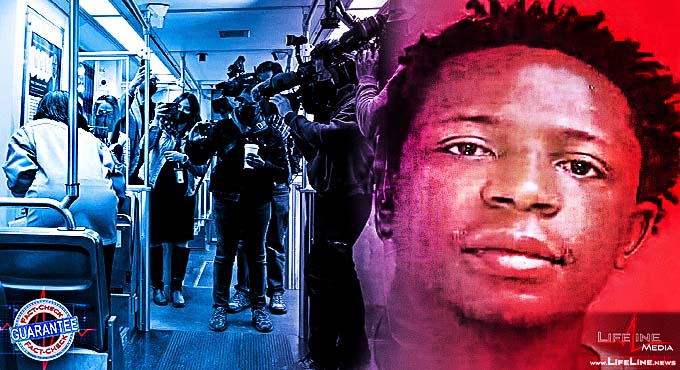 FACT-CHECK GUARANTEE (References): [Straight from the source: 1 sources]
21 October 2021 | By Richard Ahern – In a mind-boggling story, a man has been charged for raping a woman on a train outside of Philadelphia. The man harassed and groped the woman for 40 minutes and eventually raped her.
Here's the crazy bit:
As the train made dozens of stops, the assault was witnessed by multiple people who simply held up their phones and recorded the crime.
Not a single witness intervened or called 911!
Even while the man was raping the victim, train riders remained calm and simply recorded the assault on their cell phones.
At the last stop, a Southeastern Pennsylvania Transportation Authority (SEPTA) employee, who was on the train, witnessed the rape and called the police. The police arrived within a few minutes and pulled the man off the woman.
Fiston Ngoy, 35, was arrested and charged with rape and related offenses.
Here's what happened…
It was reported that both the man and woman got on the train at the same stop. Ngoy sat down next to her before surveillance footage showed him trying to force himself on her as she pushed him away.
After about 30 minutes, footage showed him ripping her pants off and raping her while passengers stood and watched.
Police didn't say exactly how many witnesses there were or how many filmed the assault, but during the attack, the train made 27 stops on its busiest route.
SEPTA Police Chief Thomas J. Nestel III said, "I can tell you that people were holding their phone up in the direction of this woman being attacked", and said he believes not even one of them called the police.
Describing the surveillance footage, Nestel went on to say, "We were watching to see if somebody put a phone up to their ear indicating they might be calling 911. Instead, what we saw was people holding their phone up as if they were recording or taking pictures".
A SEPTA spokesperson said that "It may have been stopped sooner if a rider called 911".
The people who recorded the attack and failed to help could be charged with an offense.
That's just part of the story…
New reports reveal that the attacker, Ngoy, is a Congolese national who has been living in the US illegally since 2015. He entered the US on a student visa in 2012, which was then terminated in 2015.
Court records show that Ngoy had multiple arrests since 2015, including one for sexual abuse. He pleaded guilty to the sexual assault charge in 2017 and was sentenced to jail and then placed in an immigration detention center.
However, despite his criminal past, he was protected from deportation by the current immigration system!
He was arrested two more times in the last year, but because an immigration judge granted him a 'withholding of removal', he was allowed to walk free with occasional check-ins with Immigration and Customs Enforcement under a supervision order.
According to the affidavit, Ngoy told police he recognized the woman and went over to talk to her.
However, the alleged victim said she had never seen the attacker before he sat next to her. She said she remembers getting on the train and then nothing until police removed the assailant off her. She said she had been drinking after work and accidentally got on the wrong train when he approached her.
The video showed her struggling to keep Ngoy off her and she repeatedly tried to push him away as he made multiple attempts to touch her and at one point, grabbed her breast.
Police Superintendent Timothy Bernhardt commented on the shocking event, saying, "I have no words for it. I just can't imagine seeing what you were seeing through your own eyes and seeing what this woman was going through that no one would step in and help her".
A stark reminder…
This story showcases the flawed immigration system, but it also highlights how in modern times people are more concerned with capturing the next viral video rather than helping a fellow human being.
We need YOUR help! We bring you the uncensored news for FREE, but we can only do this thanks to the support of loyal readers just like YOU! If you believe in free speech and enjoy real news, please consider supporting our mission by becoming a patron or by making a one-off donation here. 20% of ALL funds are donated to veterans!

This article is only possible thanks to our sponsors and patrons!

---
Kyle Rittenhouse: 5 Reasons Why VERDICT Was PERFECT
FACT-CHECK GUARANTEE (References): [Official court documents: 2 sources] [Government websites: 2 sources] [Straight from the source: 3 sources]
21 November 2021 | By Richard Ahern – Kyle Rittenhouse stood and faced the jury as the verdict was announced …
Not guilty on all five counts!
He collapsed with relief, crying with happiness as he hugged his defense attorney Corey Chirafisi.
The Kyle Rittenhouse story had a happy ending, justice prevailed, and the system worked.
Not everyone agreed with the result of the Kyle Rittenhouse trial, with many left-wing politicians and celebrities expressing their anger. However, unlike these radical leftists, the jury listened to all the evidence, heard every witness, and deliberated for 27 hours before making a verdict.
The Kyle Rittenhouse jury was flawless!
Don't agree?
Perhaps this will change your mind and correct some of the misinformation the mainstream media has been spewing. Here's our analysis of the Rittenhouse trial and five reasons why the verdict was the correct one.
1) Rittenhouse was always running away.
The prosecution falsely described Rittenhouse as an "active shooter".
That statement is so mind-blowing because Rittenhouse was trying to run away from the so-called "victims". The videos shown in court proved that, yet the prosecution pursued a blatantly false narrative.
Before the first shooting, Joseph Rosenbaum was chasing Rittenhouse, and only when he reached a dead-end did Rittenhouse turn around.
After the first shooting, Rittenhouse attempted to run towards the police. He continued running while a mob of people chased him down, shouting and throwing objects at him.
Not once did Rittenhouse turn around and aim his rifle at them. He continued running, being hit on the head twice, first by a rock (allegedly) and then by Anthony Huber's skateboard. Only after the two blows to the head did he begin to feel faint and trip over.
While on the ground, he was then kicked in the face by "jump-kick man" before he even fired a shot.
He was always running away! Only when he reached a dead-end or fell over (while being assaulted) did he turn around and shoot.
Simply put:
Active shooters chase their victims. Rittenhouse was the one being chased.
2) The Kyle Rittenhouse "victims" were all convicted criminals.
Some people have argued that the criminal history of the men who died has nothing to do with what happened and should have no effect on the verdict of the Rittenhouse case.
However, their criminal history gives us an insight into their characters and possible intentions.
All three of the men who attacked Rittenhouse and got shot are convicted criminals. All three of the "victims" have committed crimes, been arrested, and been found guilty by a court of law.
The Rosenbaum criminal record was vile …
Joseph Rosenbaum had open misdemeanor cases for battery and disorderly conduct (domestic abuse).
It gets much worse …
Rosenbaum was charged in Arizona by a grand jury with 11 counts of child molestation and sexual activity, including oral sex and anal rape. His victims were five boys aged between nine and eleven.
Moving on to "victim" number two …
Anthony Huber had a conviction for being a domestic abuse repeater, including convictions of strangulation, suffocation, and use of a dangerous weapon. One of these incidences involved him assaulting his own family.
And the star witness?
Mr. Gaige Grosskreutz had a lengthy arrest history and had been convicted for being armed with a firearm while intoxicated.
These records show that all the so-called "victims" had a habit of breaking the law and an affinity for violence. For example, based on Mr. Rosenbaum's criminal history, we can say with confidence that had he got hold of Rittenhouse's AR-15, he would have used it against him.
The same applies to the others: based on their criminal history, there is no telling what damage Anthony Huber was attempting to do with his skateboard. As for Gaige Grosskreutz, he was clearly inches away from emptying the entire clip of that handgun into Kyle's head.
Do you think it's a coincidence that these three men happened to be criminals?
It's not. These men were not peaceful, they had a history of committing violence and were the aggressors on the night of the Kenosha shooting.
THE MOMENT THE PROSECUTION KICKED THE BUCKET (GO TO 22:00)
3) Rosenbaum was a "crazy person".
Rittenhouse's defense attorney angered some leftists by saying Joseph Rosenbaum, the first man killed, was a "crazy person".
However, that's actually an accurate description.
Firstly, earlier in the night, Rosenbaum made a direct threat to Rittenhouse and his partner, Ryan Balch. Rosenbaum said to them, "If I catch any of you guys alone tonight, I'm going to f***ing kill you!"
He got his wish:
Later that night, Rosenbaum did in fact encounter Rittenhouse alone. There appeared to be several gunshots heard before the fatal shooting that may have led Rosenbaum to believe they were fired by Rittenhouse.
Strangely, the unarmed Rosenbaum decided to chase the armed Rittenhouse, throwing a plastic bag at him, and then lunging for his weapon.
The testimony from reporter Richard McGinnis sealed the deal when he testified that undoubtedly Rosenbaum was going for Rittenhouse's AR-15; attempting to take the weapon while shouting "f**k you!"
The video footage clearly showed Rosenbaum chasing Rittenhouse, and only when Rittenhouse reached a dead-end did he turn around and point his weapon at Rosenbaum.
Here's the "crazy" bit …
Rosenbaum continued pursuing at full speed and attempted to grab the barrel of the gun. An unarmed man who saw a rifle pointing directly at him continued to move forward.
Imagine being Kyle, this man who threatened to kill you if he got you alone, is chasing you trying to grab your weapon and won't be deterred by pointing the gun at him.
He had no choice but to neutralize the threat, and four shots seemed reasonable considering the aggression and speed Rosenbaum was coming at him.
Anyone who wasn't "crazy" would never have chased an armed man in the first place, not to mention not being deterred by the weapon. The trial further solidified this fact when Rosenbaum's fiancé testified that he was on a cocktail of medications for mental health and suffered from bipolar disorder.
Rosenbaum was out of his mind, extremely aggressive, and wanted Kyle's weapon to carry out his threat — the trial demonstrated that.
4) It all happened in a matter of seconds
There was a moment during the trial when Judge Bruce Schroeder correctly pointed out to the prosecutor, Thomas Binger, that we're talking about actions that were made in a matter of seconds.
There was no premeditation with this Wisconsin shooting.
Rittenhouse went to Kenosha to protect property and provide medical aid. Out of all the videos shown during the trial, none of them showed Kyle acting aggressively. Video evidence revealed him walking through a hostile crowd asking if they needed medical help.
Amid the Kenosha riots, Rittenhouse was forced to make split-second decisions in a chaotic environment with other gunshots going off around him.
Picture this:
Just picture yourself in that situation, you've got a man (who threatened you) trying to grab your weapon, and you hear gunshots behind your back. What would you do?
In the second shooting, not only did he act on a moment's notice, but he acted after being struck on the head twice and kicked in the face so hard that his body spun 180 degrees.
Again, imagine yourself in that situation making a life or death decision, in a delirious state, among a mob of protestors in essentially a warzone.
There was no premeditation because all his actions were reflexes — reflexive actions taken to defend himself.
5) He didn't cross state lines looking for trouble
The ridiculous narrative the prosecution tried to tell was that Rittenhouse crossed state lines into a city where he didn't belong to cause trouble.
Let's get this straight:
Firstly, he didn't cross state lines with his weapon; his weapon was at his friend's house in Kenosha.
Secondly, his father lived in Kenosha.
Thirdly, he worked in Kenosha and traveled there almost daily.
Rittenhouse knew the area well. He knew the owners of the Car Source building he was protecting, and it was his community.
In fact, Gaige Grosskreutz traveled further and across state lines with his illegal handgun than Rittenhouse did unarmed.
The bottom line
If you watched the videos, anyone with an impartial eye would come to the same conclusion: it was unequivocally a case of self-defense.
The prosecution's witnesses backfired on them: a stellar cross-examination by the defense (see the video above) exposed their star witness Gaige Grosskreutz as a liar who neglected to mention his illegally owned weapon to police. Gaige Grosskreutz now must accept that his civil lawsuits are not on good footing, and he could face criminal charges himself.
Furthermore, the prosecution's argument melted before their eyes when journalist Richard McGinnis said that unquestionably Rosenbaum was going straight for the AR-15.
The only thing the prosecution achieved was exposing themselves as liars with a political agenda. To say that Rittenhouse was an "active shooter" hunting people down was the absolute opposite of the truth.
It also didn't help when lead prosecutor, Thomas Binger, pointed the AR-15 directly at the jury!
The prosecution was a shambles, but the truth was transparent.
The Kenosha shooter, Kyle Rittenhouse, is the victim of assault, slander, and a mentally challenged state prosecutor.
The jury saw the truth, and anyone who watched the trial would have come to the same indisputable conclusion: that this was a clear-cut case of self-defense.
We need YOUR help! We bring you the uncensored news for FREE, but we can only do this thanks to the support of loyal readers just like YOU! If you believe in free speech and enjoy real news, please consider supporting our mission by becoming a patron or by making a one-off donation here. 20% of ALL funds are donated to veterans!

This article is only possible thanks to our sponsors and patrons!

---
Baldwin CRIMINALLY Charged? Search WARRANT Could Indicate PAIN for Alec Baldwin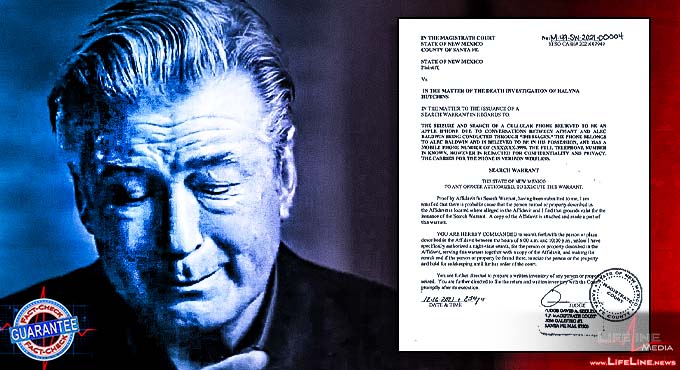 FACT-CHECK GUARANTEE (References): [Official court document: 1 source] [Straight from the source: 1 source]
17 December 2021 | By Richard Ahern – Police investigating the fatal shooting on the set of Rust have obtained a search warrant for Alec Baldwin's phone.
The warrant states that "there may be evidence on the phone" that could be "material and relevant to this investigation".
Baldwin and his lawyers initially refused to hand over his phone to authorities and told police to obtain a warrant if they wanted it.
That warrant has now been issued…
The search warrant details an extensive list of digital information police want to inspect on Baldwin's Apple iPhone. The police will confiscate the phone, currently in Baldwin's possession, to perform a complete "forensic download", which will include all digital images, movies, call logs, contacts, emails, social network accounts, and internet browser history.
The warrant also demands a download and recovery of deleted media, emails, messages, and browser history.
The police also want access to all types of text messages along with any attachments and recipient information. The court even demanded access to Baldwin's passwords and any documents on cloud drives.
Investigators will also download all GPS data stored on the phone to determine the "location associated with dates and times of where the phone was physically present."
What do the police think they will find on Baldwin's phone?
The amount of information the warrant details raises the question of whether police believe Baldwin is hiding something relating to the crime.
Interestingly, the affidavit states that the warrant is based on the fact "that suspect(s), victim(s) and/or witnesses may document information relating to the crime(s) on computers and/or on other forms of social media."
Despite Mr. Baldwin proclaiming that "it's highly unlikely that I would be charged with anything criminally", this suggests that the police haven't ruled that out.
We can only speculate as to whether the police believe there is information on the phone that could indicate Baldwin purposefully killed Halyna Hutchins; or if they are looking to build a case of criminal negligence around how the production was operated.
This comes after the prosecutor overseeing the investigation said that some individuals who handled the gun on the film set may face criminal charges.
A civil lawsuit against Baldwin states that his behavior was "reckless" because the script didn't require him to fire the gun.
Baldwin argued in a recent TV interview that he "didn't pull the trigger" and the weapon fired when he let go of the gun's hammer. Usually, a weapon needs the trigger to be pulled in order to fire, indicating that Baldwin is lying, or the gun was faulty.
Here's the bottom line:
This extensive search warrant of Baldwin's phone indicates police haven't ruled him out as a criminal suspect.
We need YOUR help! We bring you the uncensored news for FREE, but we can only do this thanks to the support of loyal readers just like YOU! If you believe in free speech and enjoy real news, please consider supporting our mission by becoming a patron or by making a one-off donation here. 20% of ALL funds are donated to veterans!

This article is only possible thanks to our sponsors and patrons!

Politics
The latest uncensored news and conservative opinions in US, UK, and global politics.
Business
Real and uncensored business news from around the world.
Finance
Alternative financial news with uncensored facts and unbiased opinions.
Law
In-depth legal analysis of the latest trials and crime stories from around the world.
Join the movement on social media…