That Didn't Age Well! Jussie Smollett Conviction HUMILIATES Liberals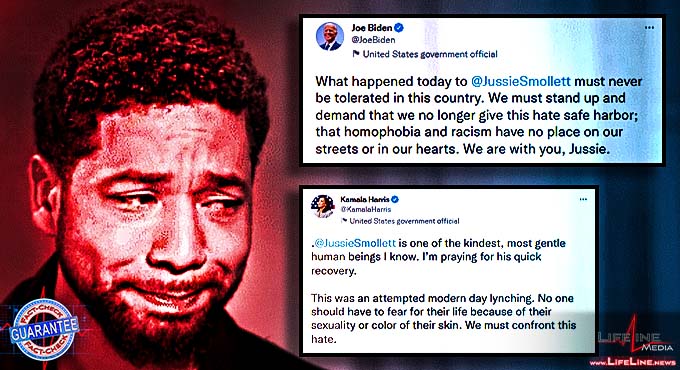 FACT-CHECK GUARANTEE (References): [Straight from the source: 2 sources] [High-authority and trusted website: 1 source]
11 December 2021 | By Richard Ahern – Actor Jussie Smollett was found guilty on five of six felony counts for making a false report to police that he was the victim of a racist and homophobic hate crime in January 2019.
The offense of making a false crime report can be punishable by up to three years in prison.
Prosecutors argued that Smollett staged a racist and homophobic attack against himself to gain sympathy and boost his career. The investigation is said to have wasted around 3,000 police staff hours.
The key turning point during the trial was when two brothers testified that Smollett had recruited them to attack him near his home. The trial lasted almost two weeks, and Smollett appeared to show no reaction to the guilty verdict being announced.
The verdict has humiliated liberals, including the President and Vice President.
When the supposed 'attack' happened in 2019, both Joe Biden and Kamala Harris showed their support for Smollett and used him to push their liberal agenda. They used the incident to try and show that America is a racist country.
In a tweet, Biden said, "We must stand up and demand that we no longer give this hate safe harbor; that homophobia and racism have no place on our streets or in our hearts."
"We are with you, Jussie", he said.
Still with him now? Biden has said nothing about the guilty verdict as of yet.
Kamala Harris also chimed in…
"This was an attempted modern day lynching. No one should have to fear for their life because of their sexuality or color of their skin", Harris tweeted out.
The Vice-President even said that Smollett was "one of the kindest, most gentle human beings I know."
That didn't age well! Harris has also said nothing about the guilty verdict.
The moral of the story?
We must not make a presumption of guilt or innocence based on skin color. Biden has made the same mistake before with the Kyle Rittenhouse case — he jumped straight to the conclusion that Rittenhouse was a white supremacist gunman. Rittenhouse was acquitted of all charges.
The left love to racially charge every situation, and this time it backfired.
This case also raises the important concern of what extent liberals will go to further their 'racism' agenda.
We need YOUR help! We bring you the uncensored news for FREE, but we can only do this thanks to the support of loyal readers just like YOU! If you believe in free speech and enjoy real news, please consider supporting our mission by becoming a patron or by making a one-off donation here. 20% of ALL funds are donated to veterans!

This article is only possible thanks to our sponsors and patrons!

---
EXPOSED: CNN Producer ARRESTED For CHILD Sex Crimes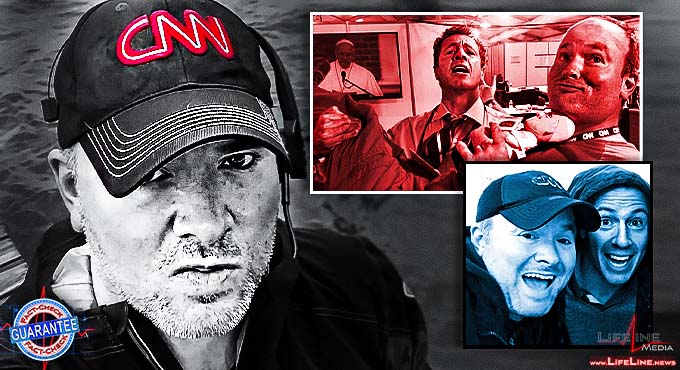 FACT-CHECK GUARANTEE (References): [Government website: 1 source] [Straight from the source: 1 source]
14 December 2021 | By Richard Ahern – CNN producer John Griffin, 44, was arrested for luring underage girls to his Vermont ski house for "sexual subservience" training.
A senior producer for CNN since 2013, Griffin was charged by a grand jury in Vermont "with three counts of using a facility of interstate commerce to attempt to entice minors to engage in unlawful sexual activity."
Griffin has been taken into custody and faces a minimum sentence of 10 years in prison and a maximum sentence of life imprisonment.
That's just half of the story…
On Mr. Griffin's LinkedIn page, he boasts that he "Works shoulder-to-shoulder with lead anchor Chris Cuomo"!
Indeed, it does seem that former CNN anchor Chris Cuomo did have a close relationship with the alleged pedophile, with many photos of them together surfacing.
The relationship between Griffin and Cuomo seemed more than just professional. Many photos would indicate they were close friends, with one showing Cuomo holding Griffin in his arms pretending to be a baby!
What exactly is Griffin accused of?
Griffin has been accused of using messenger apps to befriend mothers of young girls so he could "sexually" train the minors. According to the US Attorney's office, Griffin "sought to persuade parents to allow him to train their daughters to be sexually submissive."
According to the indictment, Griffin sent messages to a mother with two daughters aged 9 and 13. Documents also show he bragged about sexually training girls as young as 7 years old.
Griffin texted the mother that "When handled appropriately, a woman is a woman regardless of her age".
The U.S. Attorney's office in Vermont wrote: "Griffin later transferred over $3,000 to the mother for plane tickets so the mother and her 9-year-old daughter could fly from Nevada to Boston's Logan airport. The mother and child flew to Boston in July of 2020, where Griffin picked them up in his Tesla and drove them to his Ludlow house. At the house, the daughter was directed to engage in, and did engage in, unlawful sexual activity."
It gets worse:
Another report detailed how he advised a mother that her 14-year-old daughter "would be a good candidate for such training."
He proposed training would begin via video chat where he would "instruct the 14-year-old and her mother to remove their clothing and touch each other." He then declared that in-person meetings would include "spanking" and "c**k worship".
CNN has suspended Griffin pending investigation and said, "We take the charges against Mr. Griffin incredibly seriously."
This could be the nail in the coffin for CNN…
This sickening story comes shortly after CNN fired Chris Cuomo for helping his brother, former New York Governor Andrew Cuomo, defend against sex abuse allegations.
To add to that, CNN anchor Don Lemon has been accused of "obstructing justice" after he tipped off Jussie Smollett that police didn't believe his fabricated hate-crime story.
Are we finally witnessing the downfall of the mainstream media?
We need YOUR help! We bring you the uncensored news for FREE, but we can only do this thanks to the support of loyal readers just like YOU! If you believe in free speech and enjoy real news, please consider supporting our mission by becoming a patron or by making a one-off donation here. 20% of ALL funds are donated to veterans!

This article is only possible thanks to our sponsors and patrons!

---
LIFTING the Lid on the Ghislaine Maxwell Trial – FULL ANALYSIS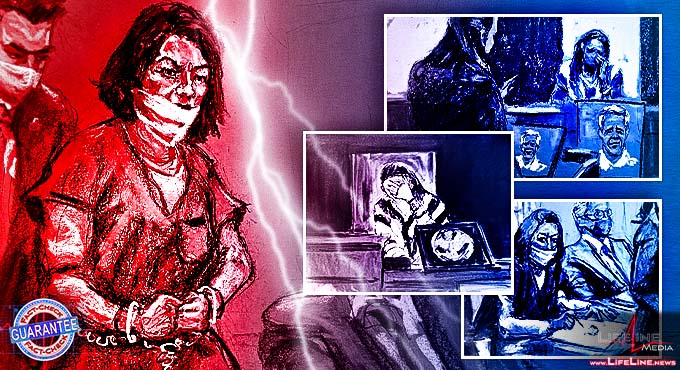 FACT-CHECK GUARANTEE (References): [Official court reports: 2 sources] [Straight from the source: 1 source]
30 December 2021 | By Richard Ahern – A thorough analysis of the key facts and moments of the Ghislaine Maxwell trial.
It is what many consider the sex crime trial of the century. It is also arguably a trial that hasn't had the deserved amount of attention from the mainstream media.
Ghislaine Maxwell, the right-hand woman of convicted sex offender Jeffrey Epstein, stood accused of multiple charges relating to sex crimes with minors.
The charges were predicated on her helping Epstein sexually abuse underage girls. They include enticing minors to travel for illegal sex acts and conspiracy to transport minors with intent to engage in criminal sexual activity.
How it started…
The trial began on 29 November with Assistant US Attorney, Lara Pomerantz branding Maxwell as a "dangerous predator" in her opening statement.
The key behind the prosecution's argument was that Maxwell "knew exactly what would happen to these girls" when she sought them out to become Epstein's victims.
It was heard that "she preyed on vulnerable young girls, manipulated them, and served them up to be sexually abused."
The defense took the stance that Maxwell is essentially a scapegoat and was being targeted for Jeffrey Epstein's crimes.
With no cameras allowed in federal court and only sketches being released, we saw very little in the way of reactions from Maxwell.
But this was bizarre:
A notable court sketch showed Maxwell looking over at the sketch artist and drawing herself back!
Let's get into the meat of the trial and verdict.
The prosecution's case
Four victims took the stand.
The prosecution's key witnesses were victims of Epstein who testified against Maxwell. Only one of the victims used her full name — the other three either used pseudonyms or their first name only.
The four women all told similar stories of Epstein being the primary abuser, but Maxwell arranged the meetings and occasionally joined in on the sexual abuse.
A woman identified by the pseudonym "Jane", said she met Maxwell and Epstein when she was 14. For the first few months, Maxwell and Epstein made her feel special and took her to do fun things.
"It changed when the abuse started happening."
She then described numerous incidents of abuse taking place when she was 14, 15, and 16 years old. She said Epstein would masturbate on her and molest her. Maxwell would sometimes join in where she would touch them both.
Another woman, using her first name Carolyn, said she was also 14 years old when she visited Epstein's home two to three times per week in the early 2000s.
"A great body for…"
She described a time when Maxwell molested her and said that she "had a great body for Epstein and his friends."
She visited Epstein over one hundred times and recalled how every time she visited $300 was left for her on the bathroom sink.
Carolyn said, "Something sexual happened every single time," and on some occasions, she would get $600 in cash if she brought her friends of a similar age with her.
Carolyn sobbed when questioned whether she was motivated by money from potential civil suits. "No, money will not ever fix what that woman has done to me," she replied.
The only victim to testify under her full name was Annie Farmer.
She recalled a time when she went to Epstein's ranch in New Mexico at age 16. Once there, Maxwell told her to get undressed so she could give her a professional massage. She said at one point Maxwell removed the sheet and started rubbing her naked chest and breasts.
On the last day of her stay at the ranch, she recalled Epstein bounding into her bedroom telling her he wanted to "cuddle".
"He climbed into bed with me and kind of laid behind me and reached his arms around me and like pressed his body into me," Farmer said.
The prosecution's argument was simple:
Maxwell facilitated the abuse by helping Epstein get these girls.
The prosecution's case rested on the abundance of evidence against Epstein and the accounts of the four women who testified.
The prosecution had a solid case with four witnesses telling similar stories.
How the defense fought back
The premise of the defense's argument was highlighting Maxwell as a woman who is being blamed for a man's actions. They claim that Maxwell is being targeted because Epstein is dead, and someone needs to be held accountable.
The defense played the gender card by saying, "She is not like Jeffrey Epstein, and she is not like the powerful white men and media giants who abuse women."
They accused one of the victims of faking her tears because of her experience as an actress.
The defense also argued that the victim's memories had been "corrupted". They brought in a psychologist and memory expert to testify for Maxwell.
Dr. Elizabeth Loftus testified that her research suggests that memories of traumatic events are often reconstructed rather than retrieved perfectly.
She said that memory "doesn't work like a recording device," and that media coverage can act as "a source of post-event suggestion."
It then backfired on the defense:
The testimony went downhill for the defense when Loftus conceded that "peripheral memories" from a traumatic event may be corrupted, but the "core memories" of the main event may actually get stronger.
The jury also heard from Epstein's long-time pilot of his private plane who testified that he never transported any women under the age of 20 without their parents on the flight.
The pilot also testified that he never witnessed any sex acts — although he admits the cockpit was always locked!
The verdict
The verdict came in on Wednesday, December 29, 2021, after about 40 hours of deliberation.
Maxwell was found guilty on five of the six charges.
The only count she was found not guilty of was enticing a minor to travel to engage in illegal sex acts; this was somewhat unsurprising as the jury had expressed confusion over the precise definition of enticement.
Sentencing will come at a later date and further testimonies from other victims could be heard which will potentially influence her punishment.
Being found guilty on five charges, including the most serious sex trafficking charge, could result in Maxwell spending up to 65 years in prison — the rest of her life.
The Maxwell family vowed to file an appeal despite the mountains of testimony from victims, but that is unlikely to be successful.
Here's the bottom line:
The Ghislaine Maxwell trial has demonstrated the integrity of the jury system and the promising notion that money is no object when it comes to justice.
We need YOUR help! We bring you the uncensored news for FREE, but we can only do this thanks to the support of loyal readers just like YOU! If you believe in free speech and enjoy real news, please consider supporting our mission by becoming a patron or by making a one-off donation here. 20% of ALL funds are donated to veterans!

This article is only possible thanks to our sponsors and patrons!

Politics
The latest uncensored news and conservative opinions in US, UK, and global politics.
Business
Real and uncensored business news from around the world.
Finance
Alternative financial news with uncensored facts and unbiased opinions.
Law
In-depth legal analysis of the latest trials and crime stories from around the world.
Join the movement on social media…