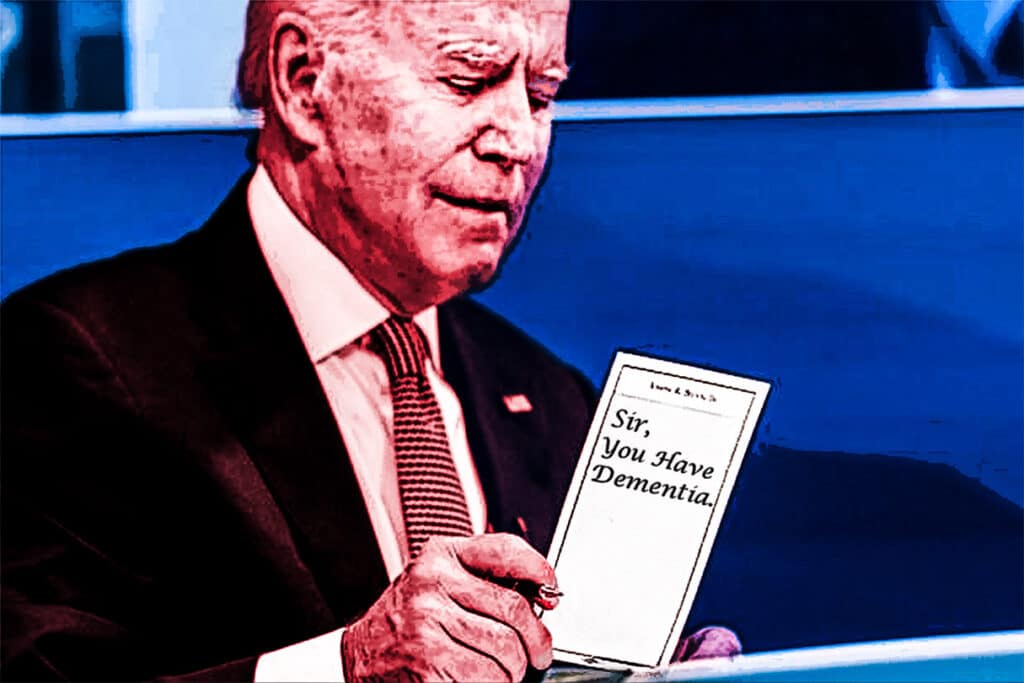 It's time to answer the Biden dementia question!
02 August 2021 | By Richard Ahern – Biden is a gaffe machine, everyone knows that, but while his critics argue it is a sign of dementia, his supporters claim they're harmless mistakes that we all make from time to time. 
FACT-CHECK GUARANTEE (References): [Medical authority: 2 sources] [Government websites: 3 sources] [Academic website: 1 source] [Straight from the source: 12 sources] [High-authority and trusted websites: 2 sources] 
A Joe Biden gaffe is nothing new, but arguably the gaffes have been getting worse and more frequent lately.
Not to mention the fact that he's no longer just a candidate for president, he is the president, the stakes are much higher now! He has the nuclear codes!
The question is simple…
There are many examples of when Biden gets confused, but are they just silly mistakes caused by nerves or a mild speech problem or are they evidence that the leader of the free world is in cognitive decline caused by a form of dementia? 
Let's take a look at what dementia actually is, the signs that doctors look out for, and whether Biden is showing any signs of dementia.
It's time to answer the Biden dementia question once and for all. 
All our evidence and references to key events can be found at the bottom of the page. 
What are the symptoms of dementia?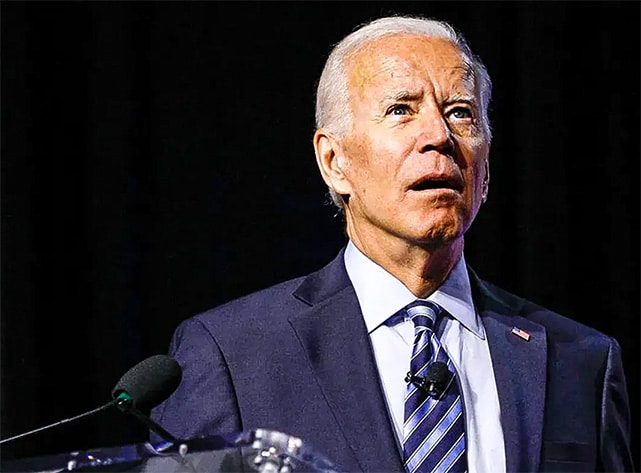 The Biden 'blank look' comes to mind here, when his eyes glaze over and it appears like the lights are on, but nobody is home. 
This is particularly evident in the most recent Biden Town Hall with CNN, which we covered. There were numerous examples when Don Lemon was talking that Biden suddenly appeared lost and confused. 
It's a common look of Biden's where he's been pictured glazed over. Watching him closely during conversations, you can see from his facial expressions the moments where he goes in and out of reality.
Difficulty concentrating can be evidenced in any Joe Biden speech of your choosing when he loses his train of thought and suddenly switches topic.
The classic example is when he forgets what he's saying and says, "well, anyway…" as a means of moving on quickly. 
Difficulty concentrating? 
Check!
Struggling to carry out basic daily tasks
Struggling to follow a conversation and find the right words
Confusion over time and place
Another box checked here! 
As we mentioned earlier, Biden not only confuses time and place, but he confuses people. To the point that he's confused Trump for Obama and Obama for Osama Bin Laden not to mention when he confused his wife and sister while on stage. 
How do you get those people confused for each other!?
A Biden blunder where he seemed to lose all understanding of time was when he claimed to have joined the senate 120 years ago!
But wait there's more…
During another Biden confused speech, he said, "Welcome to Kingswood Community Center", however, after staring out into space with his mouth wide open, he suddenly realized that's not where he was, saying "actually that's the one where I used to work."
The confused Biden tried to pass off the embarrassing mistake as a joke, however, it was blatantly clear it was another moment of confusion from bumbling Biden!
That's not the only time…
Another Joe Biden senile moment was when he forgot what state he was in saying, "…needs of the people of Arizona", all looked fine until a flag in the background showed he was actually in… Nevada. 
Many examples illustrate Biden disoriented over time and place. 
Check!
Does Biden have dementia? - The bottom line
There's certainly no shortage of President Biden gaffes but without a formal diagnosis from a trained professional, we will never know 100% if Biden is suffering from Dementia. 
However, by looking at all the signs and symptoms of dementia, it is clear that Biden ticks all the boxes.
The evidence certainly suggests that Biden is suffering from dementia.
It can't be hidden any longer, the signs of Biden's cognitive decline are becoming extremely obvious, the public deserves to know if the president of the United States and leader of the free world can discharge his duty. 
The citizens of the United States have a right to know if their leader is mentally capable, there's too much evidence of Joe Biden confused to ignore, a formal test needs to be done. 
Joe Biden is the oldest president to ever take office at 78 years old. Age is the biggest dementia risk factor and at his age dementia affects around 1 in 6 people. 
Even if we ignore all the Biden blunders and gaffes, his age alone makes dementia highly likely. 
The Biden administration could have put the Joe Biden dementia issue to rest immediately with a formal assessment from a doctor and it would have silenced the critics once and for all. 
The fact that they haven't makes it look even more likely that they know he would fail and would have to be removed. They can't hide him away from the press and the public forever and we must be concerned for the health of Biden himself. 
It is cruel for the world to watch a man suffer doing a job he is no longer capable of. The administration needs to put politics and reputation aside and put a man's mental and physical health first. 
Sadly, dementia only goes one way, and it doesn't get better.  
Want to see more Biden gaffes? Check out our library of Biden gaffes here!
We need YOUR help! We bring you the uncensored news for FREE, but we can only do this thanks to the support of loyal readers just like YOU! If you believe in free speech and enjoy real news, please consider supporting our mission by becoming a patron or by making a one-off donation here. 20% of ALL funds are donated to veterans! 
This featured article is only possible thanks to our sponsors and patrons! Click here to check them out and get some amazing exclusive deals from our sponsors!
[booster-extension-reaction]
Politics
The latest uncensored news and conservative opinions in US, UK, and global politics.
get the latest
Business
Real and uncensored business news from around the world.
get the latest
Finance
Alternative financial news with uncensored facts and unbiased opinions.
get the latest
Law
In-depth legal analysis of the latest trials and crime stories from around the world.
get the latest
Join the movement on social media...